TwoCan XL Renamed…

IRP
(Inheritance Reduction Plan

)
Maintenance…Maintenance…Maintenance
EPISODE TWO
With the next weather window a few weeks later, the trek to Sidney was repeated, to have the shaft seal replaced, with Prairie Girl aboard. Their friends had to leave a day earlier than them, so no buddy boat accompanied the TwoCan XL that day.
All went well until they came out of the Sansum Narrows, before entering the NO SAIL area of the BC Ferries. Suddenly, the motor stalled and would not start.  Prairie Girl looked at husband and husband looked at Prairie Girl and then they sprang into action. Immediately, the sails were hoisted and the (somewhat inept) Prairie Girl was left at the helm to dodge rocks, crab pots and sail around while husband did his trouble shooting.
The competent, calm husband (seriously) tried several remedies, such as changing fuel filters, topping up the diesel, etc.- but to no avail. What was one to do? A tow was eventually called to take them into the Port of Sidney, where they had reservations for the night.  Their buddy boat friends were alerted and on standby to help bring them in.  Now readers, you can empathize how difficult it is to look skilled as sailors when entering a port towed. They had to choke back just a little pride… Their friends were most gracious and sheepishly took only ONE humiliating picture of them towed to the dock. As they disembarked their vessel relieved and safe, their thoughtful friends treated them to a special HAPPY HOUR greeting. Let's just say, shrimp and champagne can definitely lift one's spirits. (Prairie Girl knows what you're thinking… you want to buddy boat with them- uh huh!)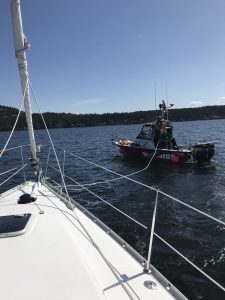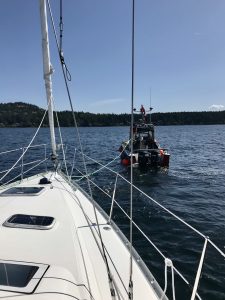 The Marine Shop was notified of their distress and they promised to send a mechanic out first thing the next morning, so that husband could have his boat hauled out the following day to have the seal replaced.
Well, you know how this story unfolds, don't you? The mechanic started with the fuel lines, bypassing the fuel filters that husband had replaced on the water.  After a full day of mechanical expertise onboard and another $1300. bill…husband was hopeful the issue was solved (but not convinced…). And what was Prairie Girl to do when in Sidney and one's boat was being pulled apart.  Yep- it was an epic day of Covid shopping! After all, Prairie Girl and her girlfriend had a lot of pent-up yearning to hit the shops, taking time to find some new wardrobe gems.
Husband and his buddy thought perhaps a back-up plan should be in place. An apparatus was pieced together so that if the problem wasn't actually fixed, the diesel would go directly to the motor from their diesel jerry canister- NOT the fuel tank. (One should note that husband had requested that the fuel be polished after they had worked on the motor. He was told that they tested the fuel and it was NOT necessary.)
Stay tuned, DEAR READERS, there is more to this tale of woe…