5th Annual Authors in Bloom Blog Hop
Thursday April 7th – Saturday 16th 2016
10 Days of Giveaways-Gardening Tips-Recipes-and More!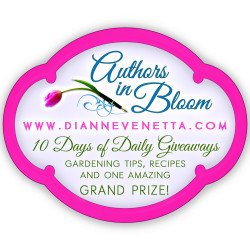 Plus a GRAND PRIZE you'll be digging to win!
The 5th Annual AUTHORS in BLOOM is finally here!  I'm so excited to welcome you to FUN HAPPENS! As you realize, not all authors are particularly great gardeners or cooks, but we do our best to leave you a little something… My recipe is simple and delicious. It's a raspberry pie that when heated and served with a scoop of ice cream, makes for a yummy ending to a lovely dinner.
FRESH RASPBERRY PIE (from Thrifty's Fresh Summer Magazine)
Prep Time 20 minutes (You like it already, right?)
Cooking Time: 50-55 … Read the rest