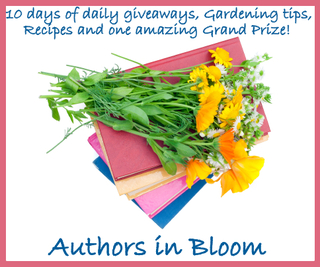 Get ready for some fun, tips, and prizes!  You're invited to participate in an Author Blog Hop.  The tour begins on April 7th at 6:00 am EST and finishes on the 16th at midnight EST, so mark your calendars!
Readers will have 10 days to enter each author's individual contest (giveaways) and submit their entry for the GRAND PRIZE (a KINDLE FIRE or NOOK and a 25 dollar gift certificate for eBooks). Visiting 7-8 author sites per day and leaving comments and your email address will enter you in author site give-aways and also provide you with 79 chances to win the Grand Prize and Second Prize (a 25 dollar gift certificate for eBooks). Only those visitors who visit EACH and EVERY stop are eligible for the grand prize ereader and gift card As well, each author site (79 in total) will also post a giveaway and either a gardening tip or a recipe. (I know I've got my recipe all ready for you, and you won't want to miss it!)
It's going to be a blast getting acquainted with all 79 participating authors and bloggers and YOU may just finish the contest by winning the GRAND PRIZE!
Please forward this message on email or retweet to anyone who you think would enjoy gathering recipes, gardening tips and competing for giveaways and the Grand Prize.
           Mary's Blog: http://twocandobooks.wordpress.com