5th Annual Authors in Bloom Blog Hop
Thursday April 7th – Saturday 16th 2016
10 Days of Giveaways-Gardening Tips-Recipes-and More!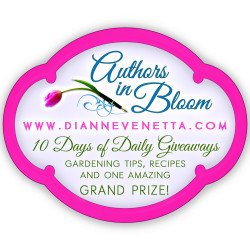 Plus a GRAND PRIZE you'll be digging to win!
The 5th Annual AUTHORS in BLOOM is finally here!  I'm so excited to welcome you to FUN HAPPENS! As you realize, not all authors are particularly great gardeners or cooks, but we do our best to leave you a little something… My recipe is simple and delicious. It's a raspberry pie that when heated and served with a scoop of ice cream, makes for a yummy ending to a lovely dinner.
FRESH RASPBERRY PIE (from Thrifty's Fresh Summer Magazine)
Prep Time 20 minutes (You like it already, right?)
Cooking Time: 50-55 minutes
Makes: 1 pie (8 servings)
6 cups fresh raspberries (from you garden if you're a gardener…ha!)
1/2 cup granulated sugar
1/4 cup flour
1 Tbsp. freshly squeezed lemon juice (makes the raspberries taste tart, not sweet)
1 large egg, beaten
1 Tbsp. cold butter, cut into small pieces
1 Tenderflake, deep-dish, double -crust pie shell
1 tsp.granulated sugar
Set the oven rack in the middle of the oven; preheat to 425 degrees F. Place the raspberries, sugar, flour, and lemon juice in a bowl and toss to combine (Don't worry if you crush some of the berries). Let stand for 15 minutes. Brush the bottom pie shell all over with some of the beaten egg to provide a seal between the filling and the crust. (I NEVER knew to do this before…) Spoon and spread the berries into the pie shell and top with the butter pieces.  Brush the edges of the pie with beaten egg. Set on the top crust and crimp the edges to seal. Brush the top of the pie with remaining beaten egg and sprinkle with 1 tsp. granulated sugar. Cut a small hole in the center of the pie to allow steam to escape.  Bake the pie for 10 minutes. reduce the heat to 250 degrees F and bake until golden brown, about 35- 40 minutes more.
This is a picture of my gardening skills from one of my archived blogs entitled, GONE BOY! (May 18, 2015)   (Now you  know why I'm leaving you a recipe, instead of a gardening tip!)                                                               
AUTHOR SITE GIVE-AWAY
Everyone (from the USA and Canada)  visiting  FUN HAPPENS! throughout the 10 day blog hop, has the opportunity to enter my Author Site Giveaway.  I love everything FRENCH!  I'm gaga over French bulldogs! I'm proud of my middle grade FRENCHIE SERIES ! And I love Banana Republic summer tee-shirts; especially the ones with an adorable Frenchie on the front.  That's right, enter the giveaway draw (a $35. value) by doing 2 things:     1. leave a comment below with your email address (so I can contact you if your name is drawn for the giveaway) and, 2. refer FUN HAPPENS! to someone else that you believe would enjoy my site and participating in the Authors in Bloom Blog Hop. The link is: https://www.twocandobooks.wordpress.com                    
GRAND PRIZE ENTRY

Now that you've found my blog, #33 on the link list of  authors (found below for your convenience) and have left your comment with an email for my author giveaway, you can keep moving through all the other author sites.  Feel free to visit www.diannevenetta.com/events/ each time you're ready to visit your next author site, as well. Grand prize entrants will be entered via a rafflecopter giveaway widget, available on the initial (Dianne Venetta's site) and final landing page of this hop, located on BloominThyme.  All entries (and actions) will be verified to deem winners.  The grand prize is an ereader of your choice (up to $200 value). A second prize is a $25. gift card of the winner's choice of ebook retailer.  Good Luck! And thanks so much for your visit!