With summer reading upon us, Mary Laudien is excited to share the first two books of her Frenchie series as a way to inspire kids to read and write blogs over the long summer break.
In preparation for Mary Laudien's Author Visit to Nanaimo Wellington Library's Summer Reading Club, she has organized a BLOG COMMENT CONTEST as a follow-up activity.  Participants will be given a business card with her blog address (http://twocandobooks.wordpress.com).  They will be asked to visit her blog site after the Author Visit and leave a comment.  The participants will have some experience with blogs through her readings and will be asked to briefly comment on one of the following:
1. a recommendation for an author visit with Mary Laudien
2. a brief review of or recommendation for the novels introduced: Frenchie's Best Friend- Follow the Blog or Frenchie X2- Follow the Blog
3. a personal connection that the participant made to the books  or the characters
The comment  must be posted by 10:00 p.m.  on July 10th with an EMAIL ADDRESS included so that Mary can contact the winner of the draw on July 11th.  The winner will be contacted by email to arrange delivery or mailing of the Frenchie Give-Aways. The prizes are the Frenchie Tee-Shirt (Size XLarge Kid's Size) and a copy of Mary's second novel- Frenchie X2-Follow the Blog. (Please Note: The teddy wearing the tee-shirt is NOT included in the Prize Package!)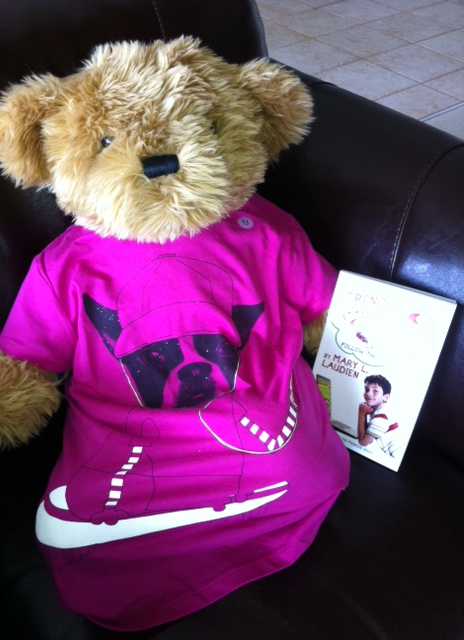 GOOD LUCK FRENCHIE READERS!  WIn a Frnchie TEE-SHIRT! 
WIn a copy of FRENCHIE X2-FOLLOW THE BLOG
And most of all, thank you for attending the Wellington Summer Reading Club on July 5th  at 2:00 pm with Mary Laudien!