Watching the news the other night, a segment came on introducing DogTV. You guessed it- a cable channel for dogs. Seriously, it's no hoax! This cable channel was launched recently in San Diego for our fur kids who are left home alone while their human pawrents (coined by Petworld Insider) go out to work. Apparently the need for this cable channel arose solely from the discomfort doggie parents felt over leaving their canine babies home alone. (There's a movie with that title- oh right; it was a human child left home alone, not a fur kid.) So for an extra $4.99 on monthly cable bills, they can leave behind their fur kids – guilt free.
Everyone's aware that those puppy owners who can afford it, drop their fur kids off at the doggie daycare with lunch bags brimming over with gourmet snacks. These same fur kid pawrents call in during the day for face-time calls to ensure their babies are content and not suffering any separation anxiety or bullying. You get the picture.
Well, it appears that now the families that can't afford the expensive daycare experience for their doggies, have found a reasonable alternative – DogTV! The cable company promotes their programming, promising that our dogs will be more relaxed and less anxious about being left alone during work days. Separation anxiety? Really? (Wow! I'm embarrassed to admit that I must have been a lousy fur kid pawrent in my past life, as all my dogs were left home alone. It never dawned on me to worry about whether they were experiencing anxiety or the dreaded "B" word…BORED! (gasp!) We pet owners used to always lament that a dog's life was something to be envied! Think of all that time spent napping and relaxing during the day. (Apparently that is no longer acceptable canine parenting practice.)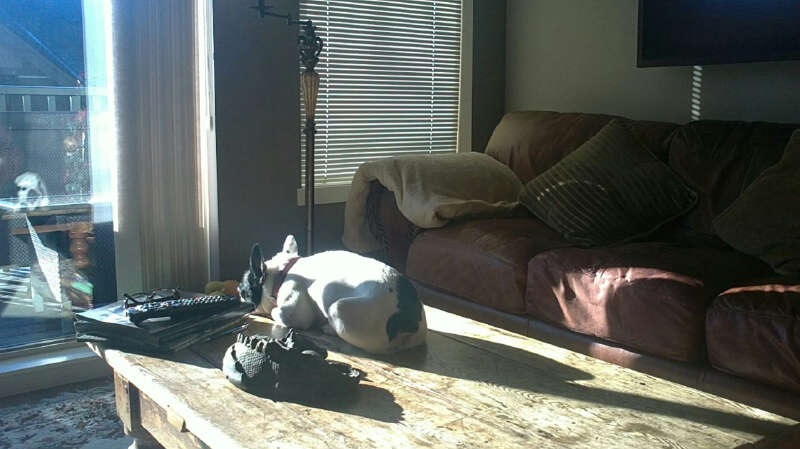 "There's NOTHING worth watching on the Tube! When will they get home?"
One wonders if the fur kids have their favorite shows or do they spend their entire day in front of the tube, no matter what's playing? How would a cable company know what would satisfy the tastes of every breed?
Apparently, the channel really dug deep with their research, hiring dog psychologists and behaviorists. (I wonder what their credentials are?) They also worked with experts who teach veterinary medicine or train dogs to find out what would be the best programing for the fur kids viewing audience. (Obviously, it would be kind of difficult to survey them), unless you thought you could trust their pawprint on a multiple choice list. I'm not sure how they came to such conclusions, but they decided that human TV shows with car chases, sirens and gunshots were stressful for the Fur Kids; so those have been avoided. They incorporated shows with other dogs in them. I guess they choose their favorite canine celebrity dogs to watch.
The cable discovered that fur kids also like shows that give them a view from outside car windows, helping them to visualize they aren't trapped inside with no place to go.
Harp and piano music are their choices. (No Latin rhythm and salsa or heavy metal for them!) Maybe this is their spa music, where they visualize being petted (having a massage and pedicure), and simply relax for awhile as they do the hard work of waiting for their human to come home and free them.
One has to wonder whether they have a "let's get physical" show where they pump a little iron in their mouths or partake in a fitness circuit.  These canine parents would, no doubt, be happy to set up a fitness center and obstacle course in their great rooms to enhance their puppies' physical self-identity and esteem. (Surely they wouldn't dream of having a show called the "Biggest Loser" to motivate the obese fur kid to shed a few pounds… would they?)
And then of course, after all that physical exertion, the poor thing is going to have to be hydrated.  Will a simple slurp at the water dish do or will the workout canine require a snazzy hydration system with spring water?
The channel also suggests that the large flat screen tv's be mounted closer to the floor for the viewing pleasure of the dogs. (I'm not sure how that will work for the pawrents in the evenings…) The channel ensures there is action and sound that they can relate to, such as panting, rough housing, and chasing. (Now that sounds like it could get the fur kids a little hyper, don't you think?)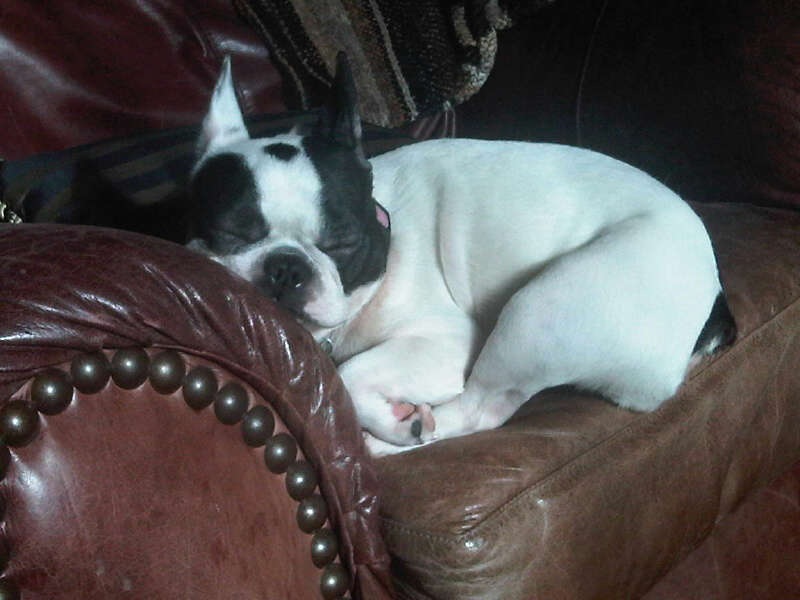 No doubt there is a "Doctor" show on the channel, as well.  Vets probably demonstrate different procedures, like expressing the anal glands or getting shots, to decrease any Vet phobias out there with their canine friends.  (Neutering procedures are probably avoided!)
And of course, canine make-overs would be a must. Can't you just imagine them being mesmerized by the team of groomers brought on the channel to completely change a bedraggled dog look from dirty and matted to groomed and dazzling. Streaks and hair extensions would be expected, along with mainstream tattoos and sparkly nail polish.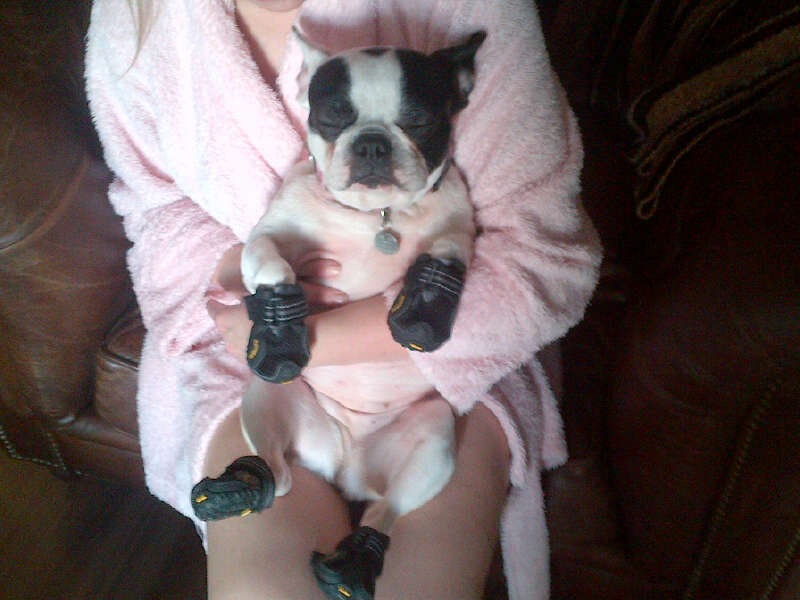 But let's not forget there are the "foodie" dogs out there, as well.  They just love anything organic and gourmet. Watching the preparation for their favorite dishes will only help them salivate over their scrumptious, delectable lunches. (Realistically, their lunches are probably  eaten the minute a fur kids pawrent leaves the premises…)
No doubt teeth brushing videos provide the manual instructions for flossing properly and whitening strategies for a sparkling, fresh smile.  Oh, I can only imagine what our little fur friends will spend their days watching.                                                                       
So tonight when you get home and sit down to snuggle up with your PIT BULL fur kid in front of your 60 in. flatscreen, be aware that as you grab for the remote, you may just experience a throaty, intimidating growl, warning, "Don't even think about it."  (Maybe DogTV was meant for the pawrents, as well… No more Good Wife for you!)