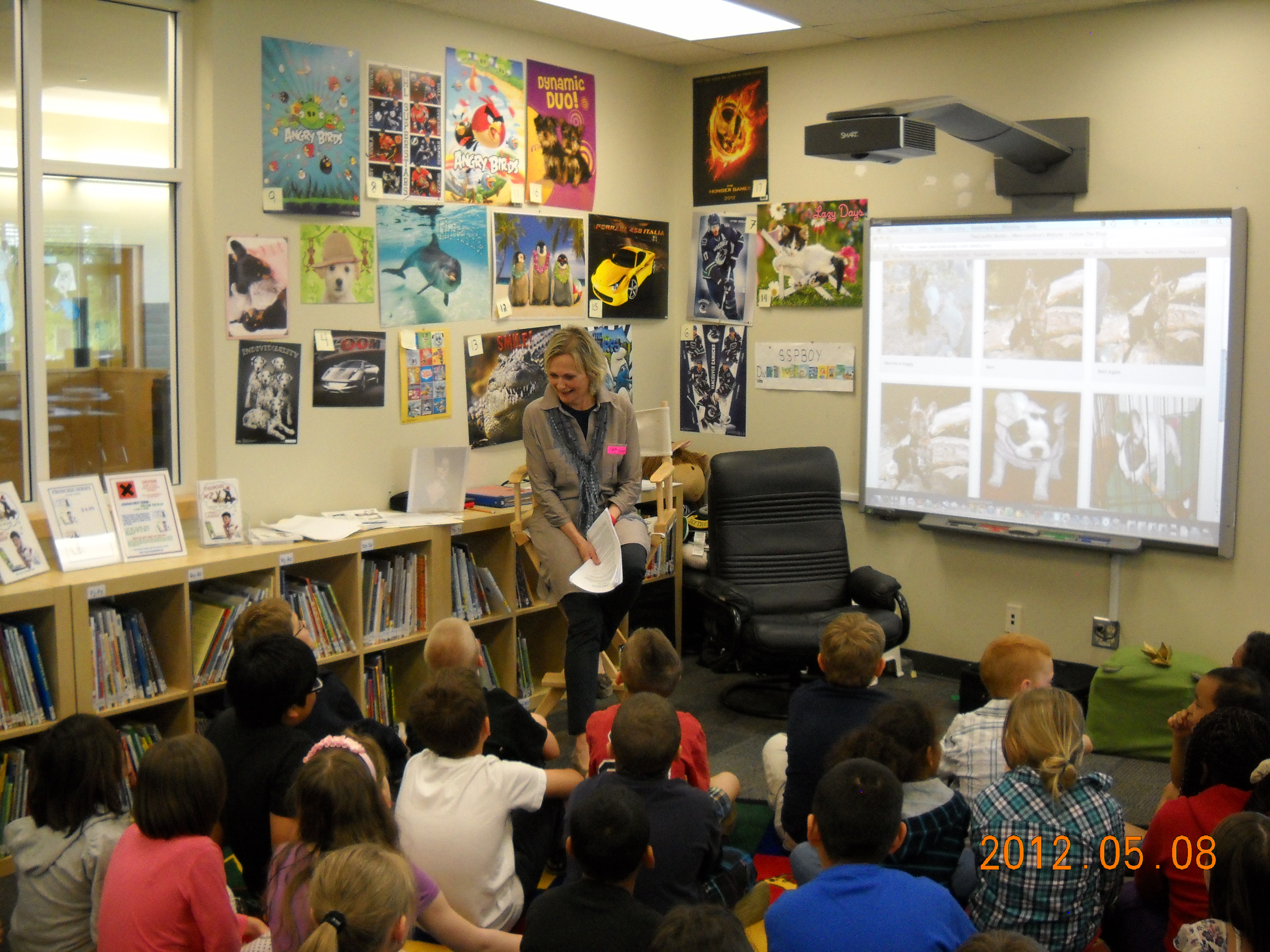 What a blast Mary Laudien had at Hazelgrove School in Surrey  last week!  The students must have read her Author Visit flyer because the Grade 4's, 5's and 6's (all 300 of them!) arrived at the sessions ready to have fun.  They laughed during the blog readings, they related to the pet owner wanna-be Ethan, and they enjoyed hearing about the chaotic mis-adventures that the thirteen year old main character and his quirky and conniving grandmother get themselves into.
Sharing what inspired the author to write the Frenchie series and exploring the elements of creating powerful blogs set them up for a Give-Away Contest.  Four signed copies of Frenchie's Best Friend-Follow the Blog were left with the teacher-librarian to be presented to the four students who met the author's "Write a Blog Post Challenge" in the most entertaining way. The students had the opportunity to return to their classrooms to write a brief blog post based on their author visit experience.  They were provided possible topics for their blog post: an opinion about the author presentation, an opinion/review about the Frenchie series, a recommendation of Mary Laudien's novels (or not), or a personal connection made to the books/blogs/ or characters.  The response was overwhelming!  Let's just say, the author had a few hours worth of highly entertaining reading to narrow it down to four winners!  That was the focus of their blogs- provide information in an entertaining and informative way using their personal "voice".
Mary Laudien found the blogs well constructed and the personal connection made and relevancy of the novels with the students was thrilling.  Hazelgrove is full of pet /dog people and some even showed up to the presentations with French Bulldog t-shirts to show their enthusiasm!  They also thoroughly enjoy humour as chronicled by their own humorous experiences with puppy training and care in their blog posts.
The staff filled in evaluations of the author visit and these are some of the comments made:
They would recommend the author visit to other colleagues for students in Grades 4,5,6 and 7.
Some of the strengths of the author visit/ Frenchie series, included:
animal appeal, humour, making connections, relating to real life experiences, author relates to the students and their interests, kept the attention of the students, inspirational, demonstrated by another adult that creative writing/writers' workshop is a worthy endeavour, the Frenchie series appeals to an intermediate audience nicely by incorporating humour and narration, stories that all students can connect to in some way, all kids love dogs, shows that books are written by regular people and that students might also be writers, great books for literature circles (debate around personality traits and character), good read aloud novels, a tool for inspiring blog writing, a fun read for DEAR/ Classroom Library, strong character depiction, realistic fiction with current trends like single mom, latchkey kid, pet lovers, dog people
Book an Author Visit at your school – anywhere on Vancouver Island, Lower Mainland of Vancouver, Portland, Vancouver, Washington.  Mary would love to visit your school or library- anywhere where students enjoy fun and reading!  (All visits are charged a minimal fee to cover travel costs.  She is happy to have schools share the costs.)
To make a booking go to http://www.twocandobooks.com