Juvenile Novels:  Frenchie's Best Friend- Follow the Blog  and  Frenchie X2- Follow the Blog 
Synopsis of Mary's Books:  Society is "gaga" over their pets. In the first book (Frenchie's Best Friend-Follow the Blog), Ethan enlists the aid of his quirky, scheming Grandmother and a following of bloggers to realize his dream of becoming a French Bulldog owner. The story is a covert operation of misadventures processed on his nightly blog, "Frenchie's Best Friend" unbeknownst to his over-stressed and somewhat oblivious single mother. The journey is both humorous and unnerving, as Ethan sets up a bargain "doggie wash" business in his mother's laundry room. The story has all kinds of appeal to readers who are dog crazy themselves or are looking for a book that keeps them turning pages with each new chaotic and comical challenge Ethan faces in his subterfuge journey.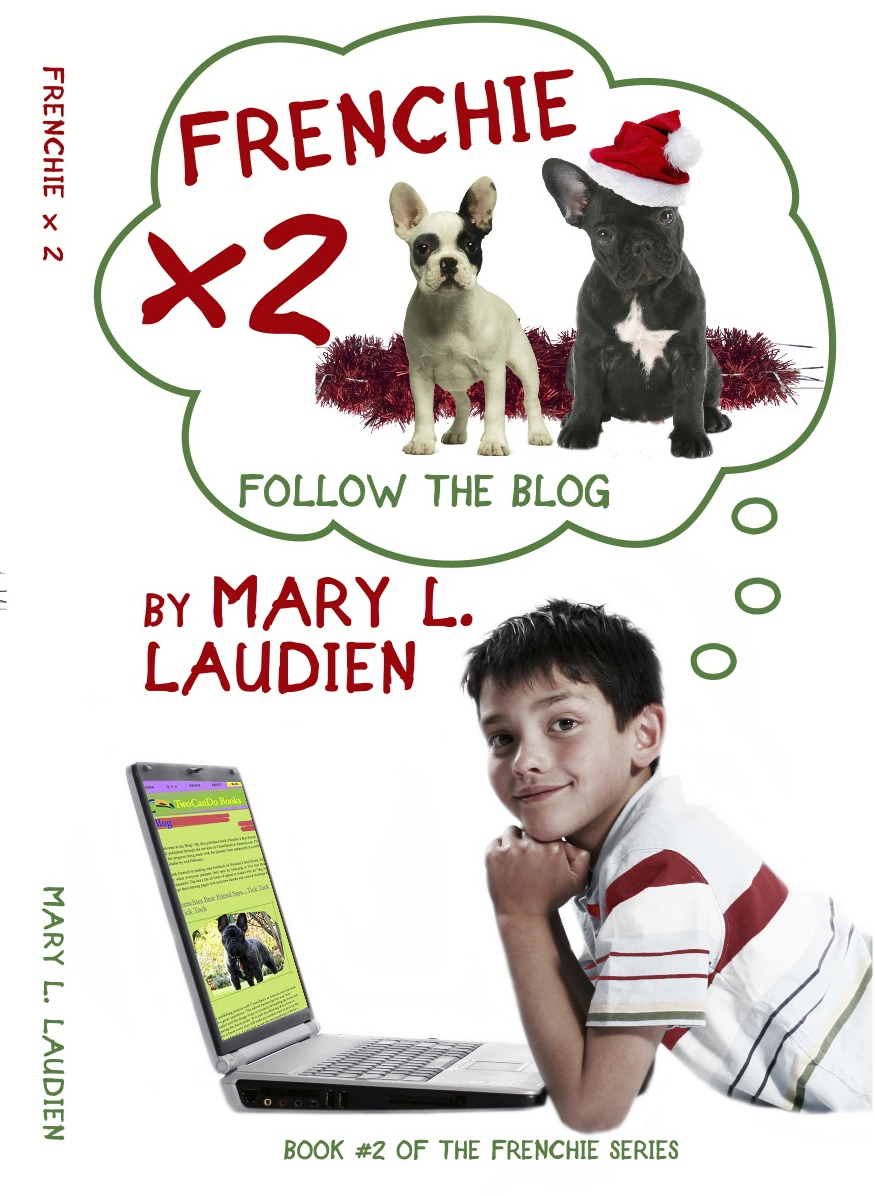 Two adorable Frenchie puppies "had Ethan and his mother at first lick". Well, at least they had Ethan…  A must read for anyone who has ever brought home a brand new puppy X 2 for the very first time. The sequel- Frenchie X 2- Follow the Blog takes the surprise ending from the first novel and sends Ethan and his Mom into the realm of puppy ownership with not one, but two adorable and very different Frenchie puppies.
Juggling the responsibilities of caring for and training not one new Frenchie puppy, but TWO, while simultaneously keeping his reluctant, bamboozled mother on side is full on!  To say nothing of monitoring his conniving grandmother; who knew she would start playing cupid and encourage his mother to start dating? And through all of this chaos and craziness, Ethan tries to maintain friendships, balance schoolwork with his Doggie Wash business, lead a major school fundraiser, and most importantly, continue chronicling his journey on his nightly blog.  His constant struggle with trustworthiness (partially due to the modelling and meddling of his somewhat devious Grandmother) continues to put Ethan into crazy situations spiralling out of control that the reader expects to blow up in his face momentarily.
 About Mary Laudien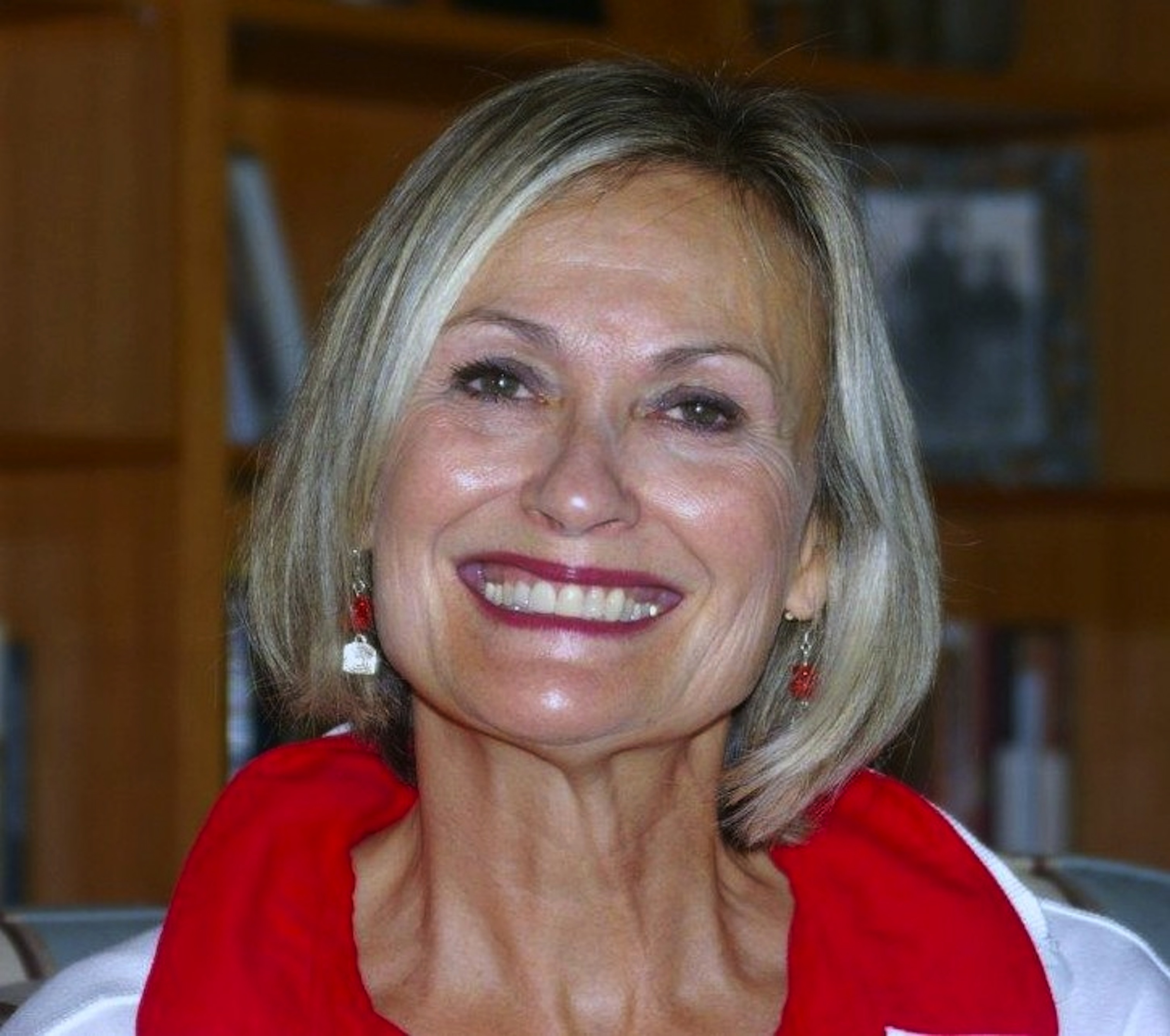 Mary recently retired from her position as Principal of West Bay Elementary and Cypress Park Primary (International Baccalaureate World Schools) in West Vancouver, British Columbia.  With her newfound freedom and the gift of time, she is happiest when writing her own books for the students with whom she spent her career. She is convinced that they'll enjoy reading her novels just as much as she has fun writing them. In actuality, she had such a great time with Ethan (the thirteen year old main character) and his Grandma Sis' covert scheming and crazy predicaments, that Mary constantly found herself chuckling aloud while she wrote. She is loving the feedback she receives from her readers of all ages when they describe the "belly" laughs they're experiencing while reading the first two books of her Frenchie Series.
 Mary's grown-up sons both have French Bulldogs. They are passionate about their "Frenchies"-Bert and Cecile! Mary's "grand-dogs", with their big personalities, comical antics, and adorable dispositions, were the creative stimulus for this novel. The story has all kinds of appeal to readers who are "dog crazy" themselves or are looking for a book that keeps them turning pages with each new chaotic and comical challenge that Ethan faces in his covert plan.  However, Mary cautions her readers from trying any of Ethan's techniques in pet grooming!
And remember, if you aren't yet totally "gaga" over "Frenchies" before reading this novel, you will be by the time you finish it… GUARANTEED!
WHAT EDUCATORS ARE SAYING ABOUT FRENCHIE'S BEST FRIEND
 It was wonderful to have you at the school and to be such an inspiration to the kids. I'm looking forward to the continued adventures of Ethan in Frenchie X 2.  -JH
 Thank you very much for the visit Mary!  You completely captured my 6/7 class' attention this morning. – A
TESTIMONIAL
 Pet lovers and wannabe dog owners are sure to be captivated by Frenchie's Best Friend: Follow the Blog as they follow Ethan's crazy adventures in his covert dog grooming business.
Teachers, consider this book for your literature circles as rich discussion can occur about commitment, being principled and multiple intelligences. Today's tech savvy kids will relate to the mix of traditional text and Ethan's communication via his blog. You might even be inspired to have your students respond to this book in a class blog of their own.
Recommended for grades 5+
IB PYP Teacher-Librarian
West Bay Elementary School  (International Baccalaureate Primary Years Program World School)
WHAT EDUCATORS ARE SAYING ABOUT FRENCHIE X2
 I finished your first book and could not wait to start the second one.  Your perfect ending in Frenchie's Best Friend resulted in me picking up Frenchie X2 right away and it is so funny!  I think this is a great read for an adult too and can see teachers enjoying reading this book to their students.
I enjoyed every moment of Frenchie X2~~ so funny and so real life.  You are such a creative writer. So when does the third book come out?  I am looking forward to the next in the Frenchie series.
There should be enough copies of these books in every classroom with teachers' hopefully incorporating literature circles. Imagine the discussions taking place between children!!!!  I would love to be a fly on the wall! What great fun!
My Masters in Ed was on literature circles and I gave workshops all over the city of Calgary. It was my dream to see this process happening in every classroom. Your novels are perfect for engaging and exciting readers.
R. W. (Retired Assistant Principal of Abbeydale School, Calgary)
Mary Laudien would love to visit you at your school, library, or book club- absolutely anywhere that middle grade readers enjoy FUN and HUMOR!
All Middle Year's Author Visits (appropriate for Grades 5, 6 and 7) include a prompt to provide a personal connection to her books, readings from Frenchie's Best Friend- Follow the Blog and the sequel Frenchie X 2- Follow the Blog, discussion of what inspires her books, tips on writing entertaining blogs, an interactive blog writing challenge, and answering questions regarding the writing and publishing process. Her student workshop is presented over 50 minute blocks.
Mary is an educator, recently retired as a Principal. She is happy to present to groups of up to 75 students. Her approach keeps the students engaged and participating. A copy of each book is donated to the school's library with her author visit.
Mary's paperbacks are reasonably priced so that they are affordable for all. Her first book is priced at $6.99 and Frenchie X 2 is priced at $9.99. Mary is anxious to continue her work with "Making a Difference" that she was involved in as a principal.  Thus, she reimburses 15 % of all book sales at schools and libraries to go towards their favorite charity or PAWS for a CAUSE (SPCA).  There is a chapter or two in Frenchie X 2 that deals with fundraising through the Kielburger's initiative of "ME to WE" and thus is a motivating connection for the students.
To inquire about availability and expense rates:
Email: mlaudien@telus.net    Website: www.twocandobooks.com