Last spring, our friends, Alison Wright and Donald (Mucker) Munroe hatched a plan to celebrate Mucker's sixtieth year as a Canadian citizen.  He immigrated from Scotland at the age of twenty-three and wanted to party with his community and family.
Our Mucker is a character who enjoys a big splash.  Three years ago, for his eightieth birthday party, he had a huge gathering representing a cross section of his life (former staff members from schools that he had led as principal, past students, sailing buddies, family, neighbors, and an eclectic array of friends) for a garden party.  But before the birthday festivities began, he led a parade through his neighborhood with pipers and, of course, fully decked out in his kilt (Mmmm, such gorgeous legs this man has.).  Two sea creatures crashed the parade as fishing pole bearing Parade Marshals, complete with gum boots, mermaid attire, fishnet stockings… (These sea creatures later revealed themselves as Mucker's Doctor and his partner.)  Are you getting the picture of his fun, mischievous character?
And now another milestone presented itself as Mucker reached his 60th year of Canadian citizenship.  Of course there would be a major celebration! We nodded knowingly as they expounded on the grandiose plans for the event of the year.  (Secretly thinking to ourselves, "Yeah right, and just how are you two going to pull this one off?")  Oh my, I hate eating my words!
So months later, we were notified that they had rented the Centennial Theatre in North Vancouver just prior to the Remembrance Day weekend. A world class String Quartet- BOREALIS would perform and tickets had been printed. The tickets read:
Invitees: Friends, relations and acquaintances of Donald and their friend's relations and acquaintances and their friend's relations and acquaintances and…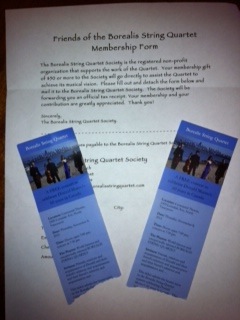 Are you visualizing this?  Through word of mouth anyone and everyone was invited to this superb concert, followed with a wine reception.
We realized at that point that they were actually following through with the Inheritance Reduction Plan (IRP)-of course they were!  We booked our hotel room and made plans to join the fun. Knowingly thinking, we absolutely MUST attend, our two bodies in those many (705 to be exact) seats would be significant. Imagine our shock when we drove into the Centennial Theater's parking lot (or tried to)!  It was jammed, hardly a spot left.  We were sure there must have been another event just finishing….
Yeah, right! As we approached the lobby of the theater, there were line-ups trying to get in the door. Donald was posed near the theater doors resplendent in his tartan trousers and tux jacket. (A magnificent specimen of a man). He successfully attempted to greet each and every guest as they made their way to their seats.
We met up with Alison's hairdresser and were fortunate to land seats in the back row of the theater.  There wasn't a seat left vacant by the 7:30 start, I swear.  Seriously, we're talking a full house! Friends and relatives had traveled from as far as Eastern Canada and California to attend.  That says everything!
Donald welcomed everyone and introduced his gift to his guests- the Borealis String Quartet in honor of his celebration.  It was an amazing treat for everyone!
Leaving the theater, we connected with acquaintances over a glass of wine.  Not surprising, we noticed Mike McCardell, the Global TV Human Interest Reporter, wandering through the throng.  I couldn't help myself from approaching him and inquiring whether Mucker's celebration might just end up in his next published book? I think we'll be on the lookout for that, don't you?
It's been a week now and we still can't stop reminiscing about how these two incredible people pulled this extraordinary event off. We tell everyone we know about it. What a powerful statement demonstrating an immigrant's appreciation for the quality of life experienced as a Canadian citizen.  But most of all, we just shake our heads and say, "Yep, that one must have been totally successful as an Inheritance Reduction Plan." (Donald's "original" version of an IRP).