OKANAGAN FALLS  hosted a RAISE A READER visit on Friday, Nov. 22nd. This was the first class to be introduced to  the recently published novel, FRENCHIE DIVA- FOLLOW the BLOG. The students were entertained by some of Ethan's (the 13 year old main character) blog entries to FBF (Frenchie's Best Friend). Stories were shared explaining what inspired the Frenchie series, as well as a YouTube video that encouraged the writing of FRENCHIE DIVA. The students shared how they personally related to Ethan and his Frenchie, friend, school and family drama, as well as his teen-age angst. Everyone understood why blogs are written and what essential ingredients are crucial to writing a powerful blog. It was a pleasure to visit Okanagan Falls and sign each student's personal copy of FRENCHIE DIVA!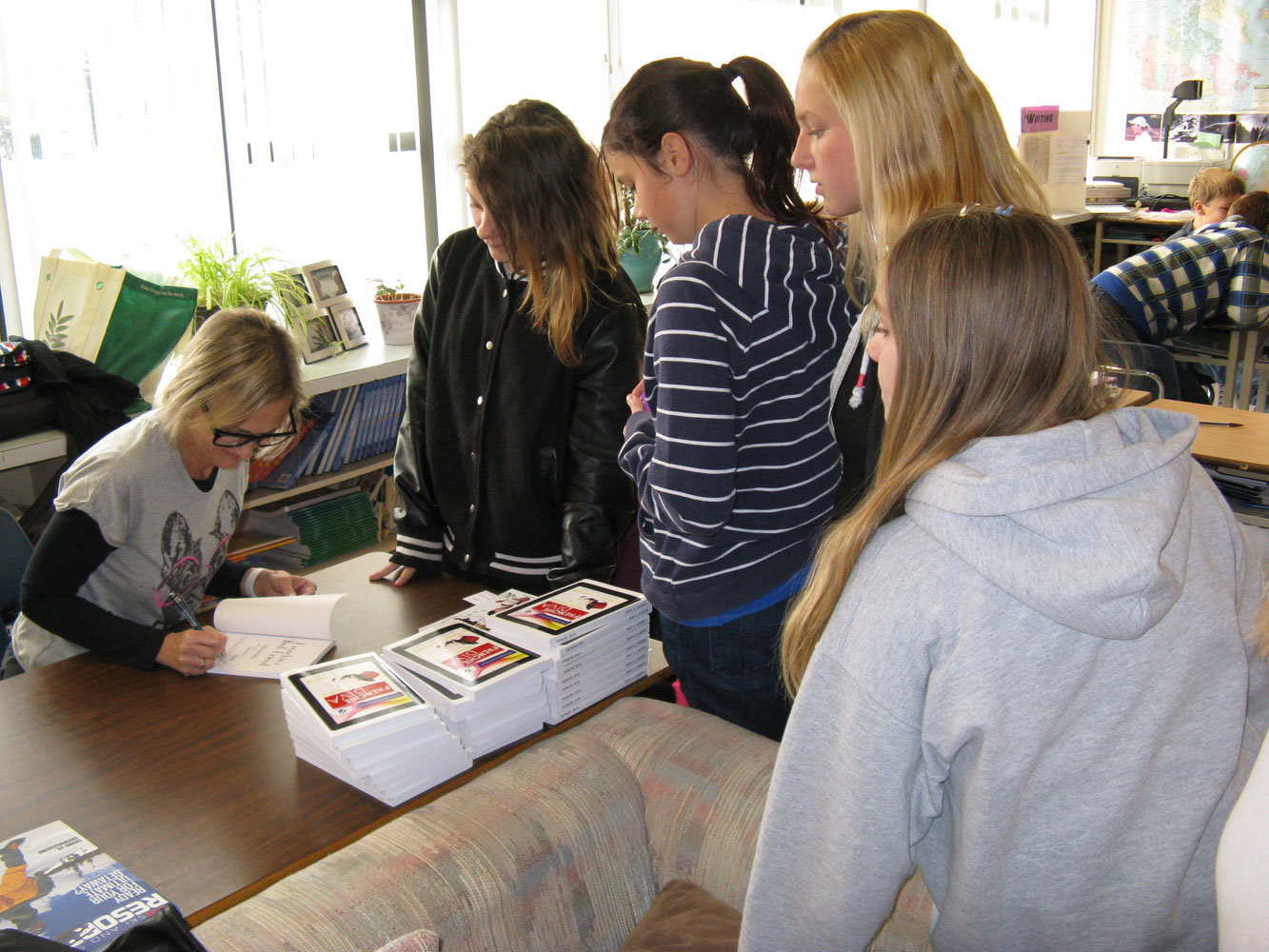 The students were left with a Blog Post Challenge. These are some possibilities for postings:
an opinion about the Raise a Reader presentation or the Frenchie series introduced
a short review of the Frenchie series
a recommendation of Mary Laudien's Frenchie series to other readers
personal connection/s the reader made to the novels/blogs/ characters.
The two most informative and entertaining blogs will qualify for FRENCHIE prizes and the two winning blog entries will be shared within the next week.
There is nothing that I enjoy more than sharing my series with tweens. Meeting with classes and inspiring blog writing and reading for fun is the best part of the writing process for this author. Anyone interested in booking a visit can contact me through my website: http://www.twocandobooks.com.  I encourage schools and libraries to use my books for a fundraiser and 15% of sales will be donated to the SPCA.
What are your thoughts about the Raise a Reader program and the blog challenge after the visit?   I value your feedback and would be pleased to have you leave a comment.
Remember, you can purchase BOOK #3 of the Frenchie series (Frenchie Diva- Follow the Blog) from Red Tuque Books:
Phone: 778-476-5751
Website: www.redtuquebooks.ca
Order by Email: orders@redtuquebooks.ca
You know you want to read it…and not just for the adorable photos of the Frenchie puppies in the FBF blog posts.