I can't stop chuckling, as I review some of our Caribbean Cruise holiday pictures that were taken back in February.  We had arrived at our last port, Key West, early in the morning.  It was a brilliant sunny day and I had awoken charged, anticipating a romantic walk down memory lane with my husband of 15 years.  That's right, we had eloped down to Key West (I joined him from Vancouver and he met me from Toronto.) during March Spring Break.  I visualized us leisurely strolling arm-in-arm through the town, reminiscing about our wedding day (City Hall- oh, so quaint! NOT!), the ocean deck/beach for our wedding photos shoot (People hanging over the deck as we waded through the surf with a pro photographer snapping shots, mistaking us for a couple celebrating their 25th anniversary- certainly NOT a WEDDING!), the perfect restaurant where we dined on that momentous night, the unique art gallery where we purchased "HAPPY PAINTINGS" for our eventual home together, … you get the picture.
This statue near the dock, gives you an indication of the romantic thoughts running through my mind. Now really people, does the guy posing with this couple look like a man who has given one solitary thought about a romantic stroll through our wedding town?  (Could it be that he was put off by the fact that I disembarked and immediately found some high-end clothing shops that needed my attention and credit card?  Or could it be that it was sweltering by 9:00 a.m. and our clothes had already started to stick to us?  Or perhaps it was that pesky arthritic toe of his starting to throb?)  Hard to say what got this glorious day off to such a bad start, but it seriously never really recovered.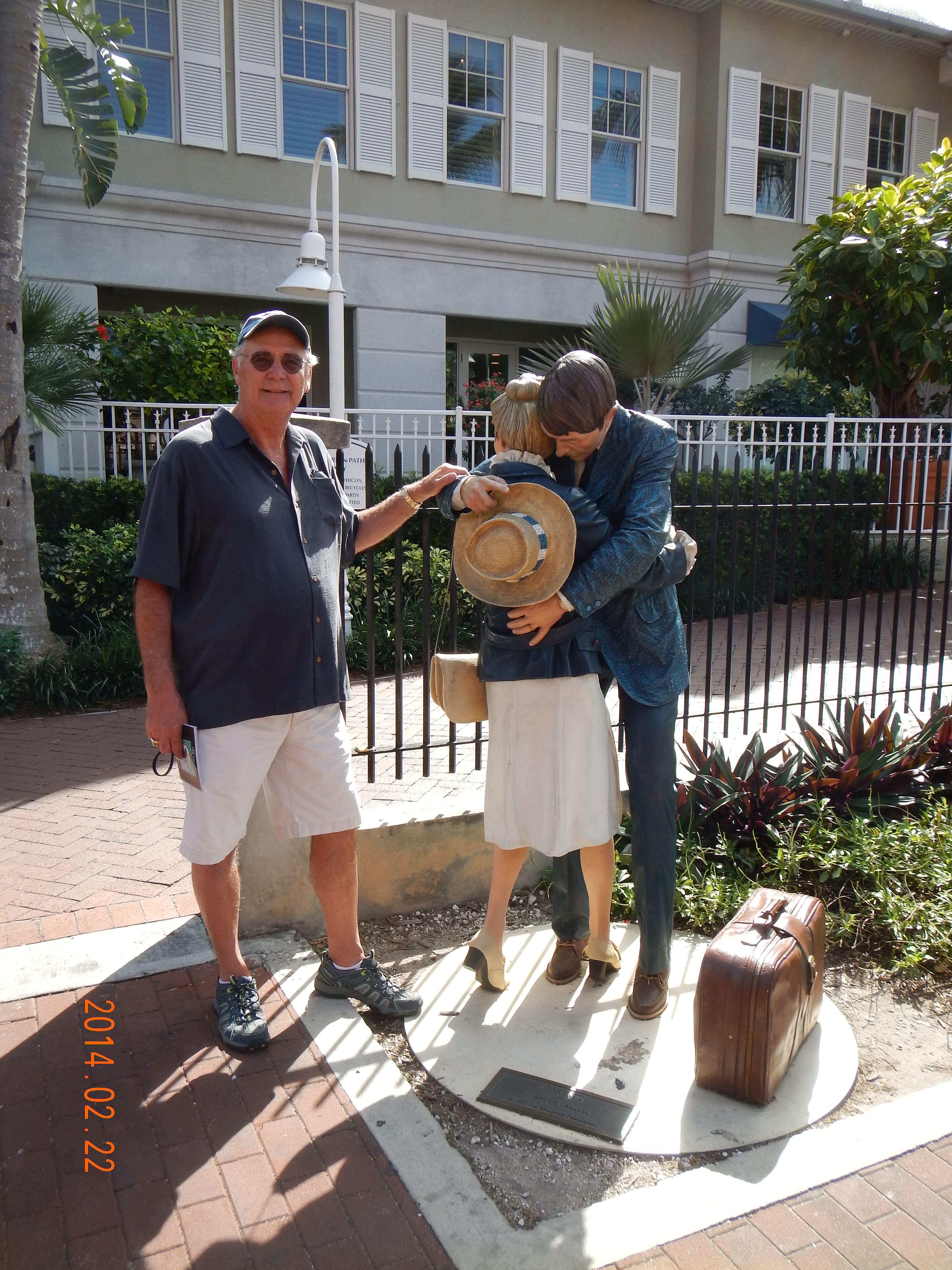 As we walked the Outdoor Artisan Fair (another special venue that made my groom of 15 years exceedingly happy), I discovered this bush growing out of a concrete wall.  It seemed symbolic of our day in paradise together.  It was obvious by 11:00 a.m. that we were struggling to survive the day with such disparate expectations. But I wasn't to be deterred, no way!  All we needed was a little respite from the  heat and a refreshing slice of KEY LIME PIE, right?  Surely that would uplift our spirits.
Sadly, the KEY LIME PIE did not work it's magic and lovely husband of 15 years did not come out of his funk.  Of course we continued on, seeking out the gallery where we had purchased our honeymoon paintings. Well, that didn't happen, did it? Key West had changed so much!  Where there were only one or two galleries during our previous visit, there were now at least 20 of them.  As we plodded our way back to the ship through the crowds and sunshine, feeling self-absorbed and disenchanted with the outcome of the day, it became clear to me that it is as THEY say, "You can never go back." 
After  a refreshing dip in the cruise ship's pool and an ice cold beverage, I realized that the let down wasn't over the fact that Key West had changed (It was more beautiful than I remembered.), but perhaps had more to do with the timing of our visit.  I think my darling husband of 15 years was possibly already feeling some glumness over the fact that we would be disembarking the ship the next morning in Fort Lauderdale (The cruise was coming to an end!) and actually had nothing to do with him lacking romantic memories of our lovely wedding day, not so long ago.
I'm sure there are some fun anniversary or wedding stories out there.  Why don't you share them with me?  Please leave a comment, I'd love to hear from you.