It's spring and sailing is in the air! The "CAPTAIN" has been preoccupied with preparations for a sailing trip circumnavigating Vancouver Island. Of course he has!  The pristine 40 foot Beneteau that he and two other "CAPTAINS" will sail at month's end takes priority. Needless to say, our adequate 28 foot Catalina has been left somewhat neglected in the wake of all the prepping and planning frenzy.
When you belong to a YACHT CLUB, there is always an annual SAIL PAST.  For all of you non-boaters, this means that yacht club members board their boats and do a SAIL PAST to salute their club's COMMODORE bobbing in her vessel out on the ocean.  Now, in most clubs, one might expect this to be a rather stuffy event with everyone fully attired in traditional navy jackets with crisp white shirts and pants.  However, you don't know this Yacht Club if that is your vision.  It was first called SCUM. (Just how stuffy can it actually be with a name like that? Am I right?) In fact, SCUM originally stood for Schooner Cove United Mariners. (Well, that makes sense!) Of course, any Yacht Club with the acronym SCUM couldn't possibly be that pretentious, could it? The answer is no.  Schooner Cove Yacht Club (present name) is the most welcoming and inclusive club one could ever join, but it's members do share two common traits: pride in belonging and pride in their boats.
You've probably figured out the dilemma.  Three days before the SAIL PAST and the Catalina still docked in a shameful condition. You get the picture … I know you do! This is when the crew (that would be me) got busy and took on the entire task of cleaning and polishing both inside and outside the sailboat, single-handed. On the second afternoon, after hours of diligent polishing,  a flyer was spotted on the marina bulletin board with an eye-catching caption, "ANNUAL SAIL PAST POSTPONED TO SEPTEMBER".  As my arthritic fingers stiffened and my knees creaked, I ranted off the bow of our dazzling Catalina, "ARE YOU KIDDING ME?"  to any passer-by who cared to listen.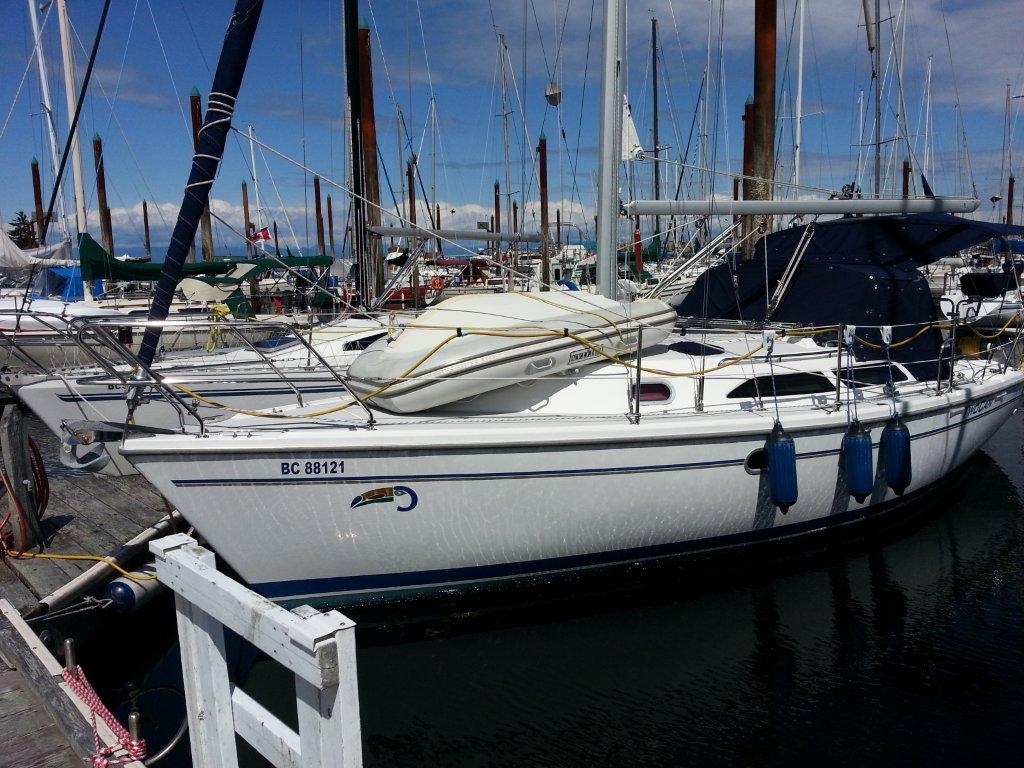 Although I was disappointed, I  felt secretly smug for tackling and accomplishing the clean up of the lovely Catalina all by myself. (Probably the best polishing it had ever had!) What hurt most was that I had bought a new nautical outfit for the event, and now I'd have to save it for another 3 months.  (I know I said we were a relaxed club without airs, but a girl has to do what a girl has to do, right?)
You have had some disappointments or regrets from time to time in life, I'm sure.  How about sharing them with us? Please leave your story in the comments section.