THE FIRST OVER-NIGHTER at ANCHOR
… How did he get

Prairie Girl b

ack onboard again?

Well, let's just say, husband didn't get Prairie Girl back onboard for that entire fall and winter- and not just because she was still traumatized from moving marinas! No it was too late in the season and husband had a TO DO LIST 3 pages long to deal with before setting sail. He was anxious to have the boat updates done before next summer when they'd be ready to go cruising – of course they would be!
So the kinds of projects that husband took on brought the reality of boat ownership home quickly to Prairie Girl. Mooring fees were one thing, but that wasn't all…
A new zodiac and motor was purchased.
A new outboard motor was replaced as the old one was destroyed in a marina "hit and run".
A self- furling sail was installed, etc., etc., etc.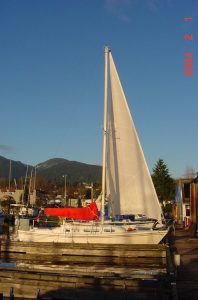 Husband was relentless to transform the old dated Catalina into a new boat…. (Remember, he's German, after all!)
Naturally, you're dying to know what was done to update the interior…as was Prairie Girl.
First things first, a new head was installed (Of course all boat owners know that "do-it-yourselfers" must assemble the new equipment on the dining room floor at home first. (Not to mention that fire hydrants must be tested and can possibly be dropped on one's new hardwood floor while proceeding to the patio ….)
Red "sunbrella" upholstery was ordered for all the interior cushions to match the canvas in the cockpit. A decorator must!
Curtains were sewn (Prairie Girl lost the battle to install expensive blinds, instead)!
The tabletop was replaced and it started to look somewhat inhabitable. (Notice Prairie Girl didn't say sailable!)
Finally, spring arrived and husband was confident he'd prepared the boat sufficiently to confidently sail it. He had even changed marinas to West Van, so that they'd have easier access to the Georgia Strait! Finally, with the new barbecue installed on the rail, he was ready to hit the water for a trial overnight anchorage. It was decided that Manion Bay on Bowen Island would be the destination of choice.
Prairie Girl packed the groceries in the ice box (yep… no fridge in that old timer), and unrolled the sleeping bags in their berth. They each manned their posts, donning their new matching red life vests, with husband at the tiller and Prairie Girl in the way, holding a boat hook that she had absolutely no idea what to use it on… (Let's just say practical skills related to sailing just didn't come naturally to Prairie Girl and certainly not through osmosis…)
Thankfully they got out of the slip without major incident and made their way over to the Island. It ended up being a calm, sunny, gorgeous afternoon, with not a wisp of wind. Obviously the new motor was used- not the sails. (Prairie Girl has since noticed that this is quite a common occurrence with a sailboat… )They dropped the hook without incident and looked out over the water at the much larger motorboats and sailboats enjoying the view and the weather as much as us.
Some sailors had pitched hammocks and were relaxing. A couple of other boats were anchored fairly closely together and it became evident that they weren't there for the serenity that the bay had to offer. Before we realized what was happening, the girls, who were already into party mode, turned up the music on their boat and came out wearing cowboy hats and bikinis to do a "little dance". The boat of several young, fun-loving, party people facing them started to engage in a "daring contest"…. I'll leave the rest to your imagination. (Such entertainment in the anchorage…who knew? Husband appeared somewhat distracted while having his lunch… hard to imagine why!)
As the afternoon of entertainment and relaxation disappeared, the HAPPY LITTLE SAILORS were content to prepare their first barbecue aboard the YKNOT. They toasted their first adventure with a hearty Merlot and after finishing their fine respite, immediately grabbed their cell phones and began calling everyone in their contact lists to spread the word that,"Doo-tee-doo, they'd just finished their first barbecue on their sailboat and they'd be hitting their berth as soon as the sun dipped. All that fresh air and sailing really makes one fatigued!" You know… a little brag and false pride!
Well they just got nicely tucked into the V-Berth (right next to the lovely new HEAD, of course) and Prairie Girl heard something. It sounded like a BIG gust of wind… Husband shot out of bed, opened the hatch and stuck his head out. Where were all the other boats that had been anchored in the bay? Well, apparently they had listened to their radios and knew that a gale force wind was expected, sweeping up the sound, right into Manion Bay. All, that is, except for a huge power boat that had placed himself between the shoreline and us. It took about 2 seconds for husband to realize that they wouldn't lulled to sleep by any gentle rocking… not in the wide-open bay where they'd decided to anchor! He was going to have to stay up and diligently watch for his anchor dragging. Prairie Girl, on the other hand, stayed put and just covered her head… she knew she'd just be in the way… (And besides, it was cold, dark and wild enough to blow her overboard!) Husband kept his trusty flashlight with him and continued to give blow-by-blow accounts of what he was experiencing out in the storm. The scariest part was that he couldn't be certain, but he was pretty sure that the monstrous power boat was dragging anchor and heading right for us!
At daybreak, husband invited Prairie Girl up to see if she thought their anchor had dragged. In her humble opinion, it was definitely the power boat, because it didn't take much to realize that the YKNOT had wound itself around a private buoy and hadn't gone anywhere. No sleep whatsoever and nerves frayed, they worked fast and hard to unravel the anchor rope from around the buoy's chain. Miraculously they freed it, and without so much as a cup of coffee, they hightailed it out of Manion Bay, motoring straight for home.
Yep, Prairie Girl was starting to understand that sailing the Pacific NW wasn't going to reflect the image portrayed on the Lotto Max ad. Seriously, she couldn't even brew a Starbucks Keurig coffee in their galley, and who knew if they'd ever get their sails hoisted?
You must share your "first anchoring experience" with us. Was it perfect? Did you know what you were doing? Did it make you want to sell the boat? What? Click in the  box below Leave a Reply and write about your experience. The most amusing tale will be notified. Please leave your email address so that I can mail you a copy of WHO'S the CAPTAIN? You'll want this family sailing vacation picture book with a collection of cartoons created by Dave Alavoine, cartoonist for Cockpit Confessions in the monthly Pacific Yachting Magazine. The book is perfect for boaters, moms, dads, kids, grandparents who love boating and hearty laughs!