SILVER LINING

in

WHO'S the CAPTAIN?
BOOK LAUNCH
THE BOOK LAUNCH

DAYDREAM

VERSUS REALITY
You can imagine it, can't you? The venue chosen is unique, as the perfect spot for drawing the niche of people for which one's book was written. (MARTIN MARINE –so ideal as a long established North Shore family business that boaters frequent.) It's in a community that both the author and illustrator had lived in and sailed from, as contributors for many years. Thus, a full house of familiar faces was anticipated coming through the door to share in the celebration of their book. Perfect! Right? (Reality Check: Perfect on a sunny spring day- YES! Maybe not so perfect on a cold, dark, rainy late November date!) 
One feels confident that all the bases to advertise the launch had been covered. (You were probably getting sick of the posts and tweets being sent out to reach as many sailing/boating families as possible!) A NEWS RELEASE for the North Shore local paper was agonized over before submission. It had to grab the attention of the reader. (Reality Check: Hard to believe after the author's gentle reminder and the personal suggestions from the advertising dept., it didn't quite cut it.)
And then one is forced to consider the purchasing of advertising for the event. A flawless ad has been created that would reach out to all sailing families, friends, and previous colleagues. (Reality Check: Did you know that a teensy weensy classified ad costs $210? You have to sell a lot of $14.99 books to cover the costs of a teensy weensy ad!).
Putting up self-designed fliers advertising the event is a fun way to spend an entire Saturday, right? (Reality Check: It took a complete day to get them up at every Yacht Club, marina, library, and community centre. Never mind that it was raining 'CATS & DOGS' the entire time. And that's not counting all the follow up phone calls and re-sending the flyers to those that hadn't been available, since the author now lives on Vancouver Island – a ferry ride away.)
PACIFIC YACHTING MAGAZINE became enthusiastically involved in getting the event information out to the sailing community and their Pacific Yachting family. They wanted to recognize their Cockpit Confession cartoonist, Dave Alavoine, who collaborated on the book to create the incredible cartoons in the context of family sailing vacations. Sam Burkhart (assistant editor) advertised the Book Launch on the PY Magazine's website and ensured our participants would have sample magazines, as well as PY prizes: a one year subscription to the magazine and two PY caps! (Reality Check: The call to inform the magazine of the Book Launch Event was made one day too late to have the event advertised in their magazine!)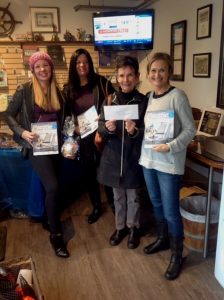 Particular distinguished guests were contacted with a special invitation to attend because of their wonderful reputations in the boating community as notable sailing/boating families. (Reality Check: The end of November is not a time of year when a lot of boaters/sailors are around.)
A special program was prepared in order to engage the children of sailing families to enjoy the special features of WHO'S the CAPTAIN? The cartoons of the book were enlarged so that the kids could read some of the cartoon vignettes and have fun guessing the meaning of the nautical words with the cleverly creative cartoons (and then affirming their answers with the sassy definitions). (Reality Check: The author had collected artefacts with fun stories to enhance the game. Burgee Bookmark kits were prepared for a project to take home. Unfortunately, the author didn't get a chance to have some fun with the kids, as it poured non-stop all day, everyone had sports activities, dance rehearsals, etc. and with BLACK FRIDAY Weekend to contend with…. most were in the malls- not Martin Marine!)
One visualized people pouring in the door, anxious to have a copy of WHO'S the CAPTAIN? signed by DAVE ALAVOINE and MARY LAUDIEN. They would stay to catch-up with one another and chit-chat over hand-baked Sailboat Gingerbread Cookies and light refreshments. It would feel like a party of like-minded people. Everyone would be thrilled to have the chance to win an original cartoon painting from the book. (Reality Check: It was a lovely turnout of good friends and family who came from as far as Tsawassen and Gibsons on the Sunshine Coast! Unfortunately, the author had to pack up a couple of batches of sailboat cookies… probably going to end up at the Schooner Cove Yacht Club's X'mas Luncheon!)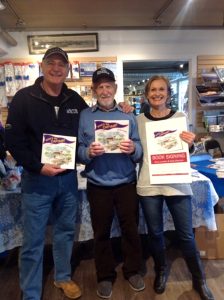 You know the SILVER LINING I mentioned …well there truly were   many special pluses!
A tribute to the artistic and witty contributions of the talented 83 year old nautical cartoonist, Dave Alavoine.
WHO'S the CAPTAIN? has a strong niche and it's a timeless book for all boating/sailing families (including parents and grandparents).
Martin Marine endorses the book and wants Dave and Mary to plan another signing event in the spring. They are also carrying the book, as they recognize the interest of their patrons and know that it makes a perfect X'mas stocking gift for all captains and crew.
It was a special venue to re-connect with friends and family.
Pacific Yachting is an excellent magazine and their commitment to the sailing community is obvious.
Mary and Dave have developed a strong friendship bond through their magical collaborative project.
Mary learned how to make sailboat gingerbread cookies (Thanks to her pastry chef friend, Barb and her son, JJ.)
Mary has the opportunity through the marketing of WHO'S the CAPTAIN? to connect with children, once again (As a former West Vancouver Principal, it's where her heart is!)
And Dave Goodman (Martin Marine's Owner) improved his techie skills-or so we thought! He was amazed with our Square Register for making online credit card sales. Husband Ryan, had an extra one along, so he gave it to Dave. After he left, his store team commented that that was a waste, as Dave apparently is somewhat lacking in his tech skills… doesn't even email! (But don't tell anyone!)
The BOOK LAUNCH was such a positive experience in spite of the hurdles that one must work through. It was a pleasure to plan and make it happen. The next time you see a signing event advertised, the author will have a more conducive date for ensuring an even better turn-out. Thank you to all that did make the considerable effort to attend!
When I returned home to the Island, my friend popped over and dropped off this card and a beautiful bottle of wine… It's a wonderful world when you have friends like this who care about your journey. Please Leave a Comment as I'd like to know that you felt this was truly a TENDER TUESDAY post.