My gift to my followers during the HOLIDAY SEASON (DEC. 26-30) is the opportunity to access the FRENCHIE SERIES  (Books 1-3)

for FREE on Amazon Kindle

. 
FRENCHIE'S BEST FRIEND- Follow the Blog

is definitely a family

Christmas read

– you'll understand why when you read this tale with a twist. The

Frenchie Series

is suitable for kids who aged 8-13 (Middle Grade Readers… TWEENS)! (or anyone who is a doggie person… and loves to laugh) Although the books are VERY reasonably priced (less than a greeting card)- they are available free on Kindle for 5 days. Please download all 3 books of the Frenchie Series and accept my gift to you! (Dec. 26-30)
MARY LAUDIEN'S FRENCHIE SERIES
Check out these hilarious novels if  YOU are:
–

tween-aged (9-13 years old)
–

a doggie person (gaga over French bulldog puppies)
–

a reader who likes humor, chaos, deceit, and drama
–

a kid who will do ANYTHING to get what one wants
–

a pet blog follower/reader/writer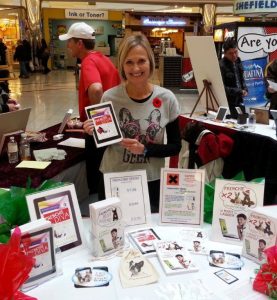 Search for Mary's FREE Middle Grade Novels on

AMAZON KINDLE

.
FRENCHIE'S BEST FRIEND         

– Follow the Blog (Book #1)
Follow the blog of daily misadventures, as Ethan's cohort of allies attempts to deceive his overworked mom by setting a nefarious scheme in motion to own his Frenchie.
FRENCHIE X2

                          

              

 

  -Follow the Blog (Book #2)
Two adorable Frenchie puppies "had Ethan and his mother at first lick". Well, at least they had Ethan…
FRENCHIE DIVA

           

      
-Follow the Blog (Book #3)
Will Sissy's cutie factor land her canine stardom?
 I hope the

Frenchie Series

entertains your family during the holiday season! Leave me a comment about the books, if you do access them on your Kindle or the Free Downloadable Kindle App. 

I love feedback!