A
FISHY
START to the BOATING SEASON'S
OPENING DAY
May 6th was the official start to the BOATING SEASON for our Yacht Club.  Members spent days ahead of the event with haul outs to power wash their boats, scrub the hull and paint the bottoms, finishing off with the onerous process of waxing and buffing.  Prairie Girl, in the past, had never shared in this part of the boat prep. Of course, it didn't help that husband kept making bookings and cancelling them. (Apparently the forecast was for rain… which, she might add, did NOT materialize on the second booking!).
However, the real glitch in the booking process ended up being the timing.  Of course, the pull-out's 3rd rescheduled date ended up being the day before the Yacht Club's Sail Past scheduled ceremony. No matter how hard they worked throughout the day, there was no way that  they could be back on the water in time to sail back to Schooner Cove to participate in the Sail Past.  What could they do?  That's the beauty of belonging to a yacht club with such kind and inclusive people. The Past Commodore and his wife invited them to board their yacht for the event. I'm pretty sure others in the club thought there was something FISHY about the Vice Commodore not having his Catalina ready in time for Sail Past.  You see where this is heading….
Well, didn't Prairie Girl and husband  enjoy their time after the ceremony on the dock. Instead of having the TwoCan immaculate and guests invited aboard, they were the guests being taken out and treated royally. (A very fishy scenario, indeed!)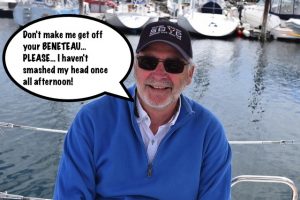 Sail Past celebrations continued as boaters arrived at the Club House in their fishing gear costumes for the fishy theme costume  contest. (No one dawned their usual pristine navy nautical jackets- certainly NOT this year!) The Commodores (present and past) paraded through the dining room and everyone settled in for a fishy program, a fish dinner (salmon, of course) was served in a dining room transformed completely with its burgee-filled ceiling. The navy tablecloths were decorated with tackle and seaweed-laden vases. Authentic fish nets, fishing gear and fishing artifacts were displayed throughout. Let's just say, it was a FISHY AFFAIR!
You're probably wondering what the sign says hanging from Prairie Girl's neck.  She decided that she would wear her take on fishing…. using one of the cartoons from her book, WHO'S the CAPTAIN?  (Appropriate for someone who doesn't fish, don't you think?)
Our Dad
(who thinks he's the CAPTAIN)
believes his family should
live off the sea while
we're at anchor.
CHEEKY GLOSSARY DEFINITION OF AT ANCHOR: You sleep in anchorages. Anchorages are the shallow and protected places where boats drop their anchors to stop them from floating away. THE KEY to ANCHORING is making sure that your anchor is stuck solid. NO CAPTAIN likes to be awoken from a sound sleep, in the middle of the night, because a neighboring boat has dragged their anchor and is about to crash into them!
As the evening came to a close, the reluctant yacht club members lingered to visit a little longer, discussing cruising plans and boat preparations with one another. The official Sail Past 2018 became another memorable day filled with high spirits, fun and laughter, great friendships and an eager expectation that the BEST BOATING SEASON YET had just been launched. And all the fishing-clad members went home with some fishy stories of their own to share…
I hope you enjoyed this fishy tale and if you aren't a member of a yacht club yet, please consider it. The club has so much to offer to its members, as they plan and prepare for spring and summer cruises together.  There is NOTHING FISHY about  support and friendship between members. The regattas and weekly races are a bonus for those members who love the sport.  Prairie Girl encourages you to join your neighborhood yacht club and if you are in her neighborhood… well wouldn't that be great to have the opportunity to welcome you to their club. Once again, please leave a comment below if you enjoyed this fishy tale.