PRIMED FOR SAILING SEASON
How did it happen to be mid-April already?   Some of Prairie Girl's and husband's friends already had their boats hauled out in March and have them in tip top shape, ready to sail when the weather clears up. They'll be out on the water in a flash.
Not so for this sailor and her Captain. They've actually cancelled their haul- out twice now, believing they didn't have a good weather window. Wrong! The sun shone after the morning showers and husband freaked out that he had let his coveted haul-out spot go. When will it possibly get done with the many Yacht Club executive meetings and regattas (He is a Vice Commodore, after all…) and winter house and yard projects still incomplete?
You may have wondered where Prairie Girl has been over the winter. She's been focused on redefining space in their home (not sailboat)- meaning they've been culling momentos, books, pictures, furniture, etc. Husband was banished from his office on the main floor (the only room that was never repainted after they moved in) to the Bonus Room above the garage. It's unbelievable the chaos and crankiness this caused! Prairie Girl shutters and closes her eyes whenever she ascends the stairs. (This used to be her EVERYTHING room and it was quite lovely with its alcove under the eaves to write.) All the great planning came to a head, after they sold the leather couch and loveseat from upstairs and realized the chaise lounges they planned to put up there were never going fit through the doorway off the stairwell. Of course, all the measuring in the world hadn't prepared them for the attempt made by the delivery guys, resulting in chinks of drywall dented inwards and scratches on the paint and trim from trying to force a chaise through, when it simply wasn't possible. Listening to 'know-it-all husband' quietly mumbling throughout the episode, "I TOLD YOU SO," didn't help improve Prairie Girl's disposition.
And just picture husband's oversized wooden desk (that came apart, unfortunately) being jammed into Prairie Girl's pretty alcove, plus adding insult to this with 2 massive, ugly filing cabinets crammed into the spaces on either side of the desk. Disaster! And where were the scanner and numerous printers going to be set up? Well, where the loveseat once sat, of course. Now they're found exposed on a horrid folding table. But that's not all… now envision rows of CD's sitting on the carpet waiting to be transferred onto husband's computer. One can expect about 5 years before they finally disappear from the floor, Prairie Girl predicts.
The room downstairs was emptied, painted and reconfigured with a new big screen tv and a chaise lounge sofa bed. There would be room for the bridge table to be set up in there and of course, Prairie Girl's writing table found a windowless corner (sigh). The sofa took 6 weeks to arrive and when it did…. more problems! The owner of the store made a mistake and even though he ordered the extra chaise cushion, the ottoman was built too low to lay it from the couch to the ottoman. Let's just say, it hasn't been a 'bed of roses' this winter and nothing seems to be getting resolved.
But that's not all, once Prairie Girl painted the new room, she redid the trim and the French door in a new white and satin finish. Of course, this was completely different from the rest of the trim in the house. So what could she do? She embarked on changing the entire trim package to SIMPLY WHITE with a matt finish, naturally! She has been at it for about 5 weeks now, and still there is about one third of the trim yet to be done…. More mess and chaos! Grrrrrrr… This just adds to their winter woes!
Project Girl (oops- I mean Prairie Girl) made up her mind that she was going to paint the terracotta grout of her tiles in the great room, entrance, 3 bathrooms and laundry room to a lighter shade (linen) to get rid of the checkerboard effect. Oh sure! Did she even consider how hard it was to be crouched down on the tiles for hours on end and squeezed behind pulled out appliances? Of course not! Did she end up crippled from a solid week of floor grout painting? You have no idea. She still can't walk without her hip causing her to growl.
Before they know it, it will be Sail Past Day and husband (whom I may have mentioned is now Vice Commodore) won't have his boat shone up and gleaming for this seasonal opening event. In fact, his new haul-out date is the day before the Sail Past, so he will have to take a break that day and finish off the waxing and buffing on the day after the opening ceremonies of the season. Needless to say, the Vice Commodore and Prairie Girl will be hitching a ride with the yacht club members who had better timing with their haul outs than they did.
Are Prairie Girl and husband ready to start the boating season? Not if they walk upstairs and not if they tour their yard, but PROJECT GIRL knows that all of that can be put on hold and once that sun starts to shine, they'll be racing to the marina and raising the sails. Keep your fingers crossed for them that the summer weather will be a BIG IMPROVEMENT over the winter and early spring. Prairie Girl needs to thaw out while bobbing on the ocean.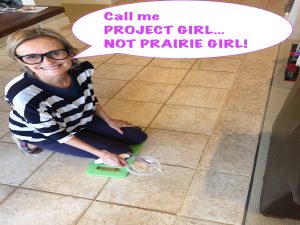 What did you spend your winter doing? Is your boat prepped for an awesome boating season ahead? Leave a comment and tell Prairie Girl all about it. Thanks for visiting my website for Tender Tuesdays.
And remember, WHO'S the CAPTAIN? is a great tool to share with kids or grandkids on the boat. Have you put your copy aboard?