HUSBAND TRADES UP TO A TwoCan XL
It's hard to believe when they visit the marina where husband and Prairie Girl moored their TwoCan, that it is not their sailboat any longer. How is this possible, you ask? Well, dear readers, read on…
It all started last summer when husband and Prairie Girl attended their first CATALINA RENDEZVOUS. They had a great time chatting with the other Catalina boat owners and having opportunities to board those boats of interest. Of course, the 28 foot TwoCan was one of the smallest boats in attendance. It quickly became obvious to Prairie Girl that a BIGGER BOAT for husband would be forthcoming.
After touring all the beautiful 36+ foot yachts, husband began exhibiting traits of discontent with their TwoCan, as they continued cruising through the rest of the summer. Suddenly, the TwoCan just wasn't comfy enough for the Commodore-in-Waiting (Oops! I mean husband…) Complaints started to arise: the bed was too hard… there wasn't enough head room for his 6 foot 1 inch stature…it felt claustrophobic in the front berth…not enough storage… (You get the picture!)
At every reciprocal that they tied up in, there was always some beautiful, larger sailboat overshadowing their TwoCan. Strange how this had never bothered husband for the last dozen sailing seasons, but suddenly he became dissatisfied… His nose was constantly buried in boat sale advertisements (hint, hint) and conversations with fellow boaters started to center around size, space and comfort- of course it did!
And when it became inevitable that husband would be expected to move from Vice Commodore to Commodore by acclamation, everyone started joking that he would be known as 'the Commodore with the smallest boat EVER.' Husband obviously took it to heart, and started to question why he should be satisfied with his 28 foot Catalina?! Evening conversations on the TwoCan always ended up in discussions about bigger boats…funny how that works…
However, nothing that they looked at appeared to fulfill husband's MUST HAVE list:
a 34-36 foot sailboat (husband's new idea of the

ideal size

of a boat)
head room (no more loss of forehead hair…)
self-furling main sail and genoa
refrigeration
on-board heat
ample storage for folding bikes, kayaks, deck chairs, etc.
a back berth with a door
a usable separate inside shower
an engine with low usage hours
a comfortable berth for Prairie Girl and husband to share
a spotless, well-maintained boat
When Prairie Girl and husband left on their September holiday to Europe, she smugly thought, "BIGGER BOAT SYNDROME CRISIS AVERTED". Husband had searched right up to the departure gate, but nothing available fulfilled the "MUST HAVE" list. Prairie Girl relaxed and dreamt of more enjoyable experiences ahead on their beloved 28 foot TwoCan (Remember, TwoCan meant the 2 of them could handle sailing it.) Prairie Girl had some grave reservations about some 34-36 foot sailboat!
Unexpectedly, they received a few emails from one of their caring yacht club friends on their third week away. Wouldn't you know it? One of our members had a 34.5 foot BENETEAU up for sale, as they had bought a 40 foot sailboat to accommodate their grandchildren. Notice the size of boat- Tick✔ This grabbed husband's attention immediately. Everyone in the yacht club knew the boat and how well-maintained it was!-Tick✔ Pictures were sent back and forth and several emails, and Prairie Girl was sure a secret pact was made with the boat owners to keep from selling it until they could return home. (Husband will deny this, but Prairie Girl knows…)
The first thing husband did upon landing was to check in with the owners and set up a meet and view. He came home ecstatic, saying he could tick✔ off every item on the MUST HAVE LIST. The only question would be whether the TwoCan would sell in time to make the deal. Well, wouldn't you know it? The sellers were willing to broker a deal with a down payment that would give them 3 months to sell their TwoCan. Husband was right on it. Prairie Girl liked what she saw of the BENETEAU, but was somewhat reluctant to give up her cozy, familiar TwoCan. The day after husband put up a FOR SALE sign off the back of the boat, a buyer materialized. He was their first viewer and he bought it within that week. This all happened while Prairie Girl was back in Saskatchewan.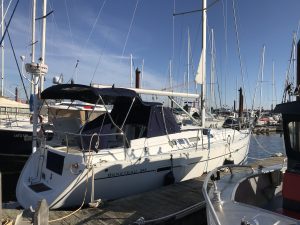 So when Prairie Girl arrived home, it was straight to Schooner Cove to have another good look at the new TwoCan XL. The Commodore-in-Waiting was satisfied that he had a boat suitable of his stature for his term as Commodore... of course he did. Prairie Girl is still somewhat adjusting to the change-over. She missed out on the cleaning out of the TwoCan ,in her absence, and therefore, never got a chance to say good-bye to her lovely 28 foot Catalina that suited her just fine. She now realizes she HAS to take some sailing/boating lessons and be ready to help handle this much larger vessel. Hopefully, by spring she will be up for the challenge… The TwoCan XL can't help but be more comfortable with the extra footage and all the amenities that the TwoCan didn't have. Seriously, there wasn't one single feature on the MUST HAVE list that this new boat didn't have. Soon you'll be reading about all the fun they are having learning how to use it all. Husband has already taken a Radar Course… yes, it even has radar!
Prairie Girl loves that husband comes home from their new boat ecstatic that he hasn't hit his forehead once … Now he is wondering if his hair might grow back… What do you think? Something else that Prairie Girl has noticed about husband is that he appears to be focused on changing their boat logo to go with the TwoCan XL. He has spent hours pouring over logos and finally found what he wants from COUPLE TO COUPLE – Cruising Consultants. They are situated on the West Coast of Florida and provide live aboard instruction on your boat or theirs. Anyways, they have been gracious in giving us permission to use part of their logo. Would you like to take a sneak peak?
                                     To view Jeff and Jean's website, go to http://www.antiguamarinesurvey.com
Thanks for reading this Prairie Girl blog. They have been somewhat sparce over the last few months, but now you know why. Watch out for many crazy adventures as Prairie Girl and husband set out on their XL boat cruises- it should be entertaining. And as always, if you'd like to leave a comment below, Prairie Girl loves to read what you have to say.
And just a little advertisement regarding WHO'S the CAPTAIN? and the FRENCHIE SERIES (3 book series, X'mas story, suitable for 9-13 year olds). It is December and X'mas is just around the corner.  If you live locally, Mary's books can be purchased at Fireside Books in Parksville.  If you are not local, just order from Amazon.ca. The books make wonderful stocking stuffers and a unique gift.