Didn't Prairie Girl and Husband Plan the Perfect Snowbird Get-Away EVER?
Some people were a tad skeptical when Prairie Girl and husband announced that they would be flying to Florida mid-January and returning home at the beginning of March. A quaint little Beach House had been rented, half a block from the beach and they couldn't wait to leave the damp cold of the Pacific Northwest for their extended stay.  Friends and relatives queried them about what they would do for a couple of months down there. Husband's response was, "Live the life I've always wanted and become a BEACH BUM." Productive Prairie Girl's response was more like, "I'm not sure… I visualize long beach walks, beach time for catching some rays and reading (probably NOT a good plan for this aging woman…), kayaking, exercising, writing, catching up on emails with family and friends, sight seeing on the gulf side of Florida, sleeping in, shopping, wining and dining…. So much to do! And don't forget that Prairie Girl was anticipating her BIG Valentine's Birthday weekend in New York halfway through the trip.
The first 10 days were a shock for them. They arrived at their Beach House in sunshine and thought they had won the lottery.  The setting was perfect, the Beach House had character and was immaculate, and they could actually unpack their suitcases (just like on a cruise)! Their first priority the next morning was to head for the nearest Trader Joe's for supplies. They were ecstatic, as they accomplished all of that in warm sunshine.
They acclimatized quickly with morning walks on the beach, getting to know their area, and setting up for their relaxing holiday, before son, Kris flew down from the brutal cold of Minneapolis for a 5 night break in the Florida sunshine.  He arrived in a fleece and jeans and ended up actually sleeping in his fleece at night.  Yep, you guessed it.  Florida hit records for being the coldest in 20 years while he visited.  And visualize being in a Beach House without insulation or heat.  Thankfully, they could load their beds with extra blankets, and the one portable heater was on full blast whenever they were home.  Kris also hit a complete day of rain. Obviously there was some Netflix binge- watching on those cold, damp nights.  And yes, you guessed it. The day Kris was dropped off at the airport, the weather changed and became hotter than it has ever been in Feb. for the last 20 years… Go figure!
Let's just say, the daydream and the reality eventually did come together and, unfortunately the countdown towards closing up the beach house, returning the rental car and departing for home has come. They're questioning how they'll ever get back into their routine at home…especially the BEACH BUM! (One knew husband turned a corner, when he arrived on the beach wearing an undershirt with the sleeves cut off…. Oh no! No longer wearing those Tommy Bahama Designer Tee-Shirts… he's a BEACH BUM!)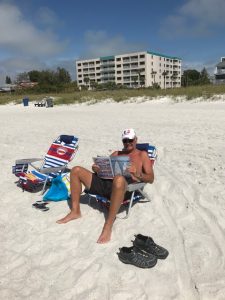 Prairie Girl and husband feel that they had the ultimate holiday.  (Even if they did have to listen to the Trump Dump Fake News each evening…) Going to bed at night thinking there wasn't one single issue to deal with in the morning, and taking a full-on break has been restorative and reflective.  Restorative, in that they exercised daily (beach walks, exercise routines, swimming, kayaking) and relaxing together reading, chatting, reflecting and dreaming.  This doesn't mean that life connections at home were cut off.  They've phoned, google video called, and face timed throughout.  Thus, even though Prairie Girl and husband weren't physically present with their precious grandchildren, they had wonderful communication with them. They missed their grandson's first solo walk at 13 months, but their kids were so brilliant and thoughtful to capture the moment on video for them.  And when their grand daughter had baths, kicked on her playmat, tried to sing along with the music, had her dirty diaper changed, broke the 10 pound mark, they felt they were present, experiencing these highlights with them. (Only an OMIE can say these things, right?)
Beach Bum husband played with frizbees on the beach, flew kites (sometimes Prairie Girl felt like telling him to …GO FLY A KITE -tee hee!), and visited as many Marine Stores, Marinas, and Yacht Clubs as possible.  He was so keen to be the first happy shopper at a Saturday Marine Flea Market in St. Petersburg, he planned to arrive by 7:30 am before the crowds. (Probably before the vendors had even arrived to set up!)  Wouldn't you know it that Mr. 6:00 am riser, happened to sleep in that morning until 7:45.  Did it matter?  Naw, there wasn't anything that he needed, but they did get a smokin' deal on a mat for the new boat in a pricey Marine Store.  (Oh yes, and Prairie Girl must  mention that husband has been up to his old traveling tricks of buying more bags to get his loot home on the plane.)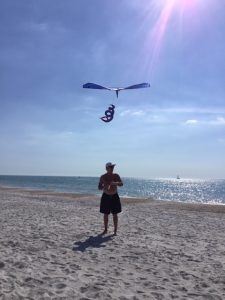 However, Beach Bum husband is COMMODORE this year, so he has actually spent some of his down time preparing for all the approaching duties ahead,  like the Annual Spring Meeting, Executive Meetings, the Regatta, and Sail Past…just to name a few.  He has the haul out for their new boat, the TwoCan XL set up for early April. Of course, he's pumped  planning ways to spend money on a fully equipped, well-maintained sailboat (you get the picture…).  And what of Prairie Girl and her anticipation of the fast-approaching sailing season?  (She had secretly planned on taking a few docking lessons while she was in Florida -away from the eyes of people who know her!)  However, that didn't happen, so don't tell anyone, but she is going to practise getting in and out of Schooner Cove when no one is around to watch the show…. Practice begins as soon as it warms up. 
Prairie Girl and husband have signed up for the club's spring and summer cruises, and actually can't wait to get out on the water with their new boat. You just know there are going to be some good stories coming your way, so stay tuned…
As always, if you would leave a comment and pass this post onto anyone that you feel would enjoy it, I would be most appreciated. Thanks for visiting FUN HAPPENS!