Thanks for visiting my blog to enter the Authors in Bloom Blog Hop!  What a great way to celebrate SPRING! I have included 2 simple and tasty recipes that I think are yummy for informal gatherings out on the patio.
HOT CRAB and ARTICHOKE DIP
1 pkg (125 g/4oz.) cream cheese light                                     30 ml (2 tbsp) mayonnaise
1 clove garlic                                                                                 2 ml (1/2 tsp) salt
2 ml (1/2 tsp) Tabasco sauce                                                    2 ml (1/2 tsp) horseradish
2 ml (1/2 tsp) dry basil                                                              60 ml (1/4 cup) grated mozzarella cheese
2 ml (1/2 tsp) onion powder                                                    45 ml (3 tbsp) red pepper, diced fine
1 can (170 g/6 oz.) crabmeat                                                    45 ml (3 tbsp) green pepper, diced fine
1/2 can (398 g/14 oz.) artichoke hearts chopped                45 ml (3 tbsp) green onion, diced fine
1. In a mixer bowl or food processor, blend cream cheese, garlic, onion powder, salt, horseradish and Tabasco sauce until creamy and well-mixed.  Drain and rinse crabmeat.  Add remaining ingredients and hand stir (do not process) until combined.  Garnish should be crunchy and visible.
2. Heat in the microwave for approximately 2 to 3 minutes until bubbly around the edges.  Remove, stir and if cheese is not melted enough, return for another minute only.  Can also be heated in an oven-proof dish at 175 degrees C/ 350 degrees F for approximately 15 to 20 minutes or until hot and bubbly.
3. Serve with your favorite crackers, slices of baguette or sliced raw vegetables.
LIME VINAIGRETTE  (Dressing  enough for  6 to 10)
This is a refreshing dressing and especially good for those of us who love LIME!
60 ml (4 tbsp) fresh lime
15 ml (1 tbsp) extra virgin olive oil
10-20 ml (2-4 tsp) liquid honey
salt and pepper to taste
ENTER TO WIN the FIRST TWO NOVELS of the FRENCHIE SERIES- US/ CANADA PARTICIPANTS ONLY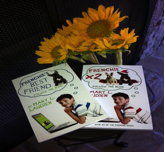 Frenchie's Best Friend- Follow the Blog & Frenchie X2- Follow the Blog
WHO CAN ENTER the RAFFLE for the FRENCHIE BOOKS GIVE-AWAY?  US/CANADA ONLY (My apologies to international participants, but it gets too complicated with international giveaway laws and stipulations.)

REQUIREMENT for ENTRY in the GIVE-AWAY RAFFLE
1. Leave a comment on my blog site.  Please include your name, address, and email address in the event that you are the winner of the Frenchie give-aways.
2. If you enjoy my blog posts, please visit my website at http://www.twocandobooks.com
How do I submit my grand prize entry and be entered to win a Nook or Kindle (my choice)?
Each author who participates will post a phrase of our traveling story, "Women in Bloom," which you will collect by visiting each author's site.  Those who collect all the phrases to complete the story will be entered to win the Grand Prize: a Kindle or Nook and $25 worth of books!!!  (Winner's choice which ereader)
All entries must be submitted on the grand prize landing page at www.acozyreaderscorner.com by using the form provided (top right corner of the site).  Only those who collect each phrase and complete the story will be entered into the drawing for the E-reader of their choice.
Remember, readers must copy each short phrase posted on each author blog post and assimilate them into the complete passage: "Authors in Bloom," a vignette about a woman's personal growth and empowerment.  Once you have gathered all of the phrases (99 lines in all), you can enter for the Grand Prize ( a Kindle or a Nook and a $25. gift certificate).  The winner will be announced on the Authors in Bloom Blog Site after April 18th.
Mary's AUTHORS in BLOOM  PHRASE for the Traveling Story:
                                   LINE 64: INDULGE in the SUNSHINE.
DON'T FORGET to VISIT the OTHER AUTHORS INVOLVED in the HOP, conveniently located on the links below:
I hope you all enjoy the contest and gather oodles of awesome recipes and gardening tips along your journey to all the author's sites during the Authors in Bloom Give Away Blog Hop! Thanks for the visit!