Whatever happens on Yacht Club Cruises stays on Yacht Club Cruises… or does it?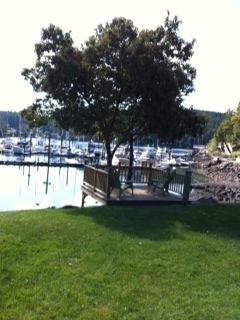 Each year a Spring Cruise is planned with interested members of our Yacht Club. This spring, as first time participants, my husband and I signed up for the great adventure. The CAPTAIN of our sailboat was particularly keen to embark with twenty other boats and make enduring relationships with his fellow yachtsmen.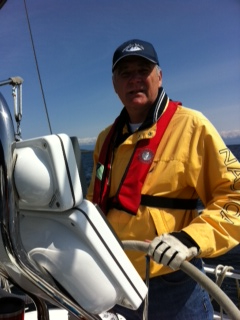 Before leaving the home dock, the participants spend hours on their vessels, preparing them for the event.  Boats are pressure washed, waxed and polished to perfection.  (To say nothing of the costly extravagances that become a must before setting sail- like generators for making that perfect morning cup of Starbucks or commissioning canvas enclosures around cockpits to keep sailors OUT of the wind.) No one leaves the home dock before their boat is outfitted to show at it's best.
The ultimate is the sailor who purchases a bigger boat just before the cruise. Of course, the new vessel may not have even had a weekend shakedown cruise, but the CAPTAIN is always confident behind the wheel. The new boat owner of this year's cruise was no exception.  Unfortunately, he kissed a barnacled pile as he left a dock  with his significantly beamier vessel. His spanking new sailboat returned with a starboard gel coat blemish.
In the anticipation of the comradeship and togetherness of a cruise, my CAPTAIN  became overly anxious to make contact. In fact, he was so wound-up on that first day; he started responding to hails intended for other sailors in the group. Of course,  a hearing test was booked immediately upon our return.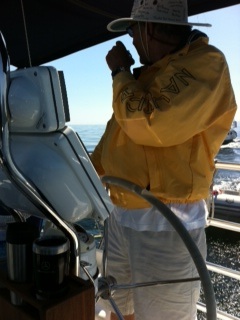 As one would expect among yacht club members, the social aspect of being on docks together after a day of sailing is the highlight.  However, one somewhat industrious, TYPE A woman (who will remain anonymous) dragged her CAPTAIN back on board prematurely from the first club-sponsored Happy Hour Event, in order to barbecue thawed chicken breasts for their dinner.  She swears the party was breaking up by the time she suggested getting back on board. Let's just say, BIG, BIG MISTAKE!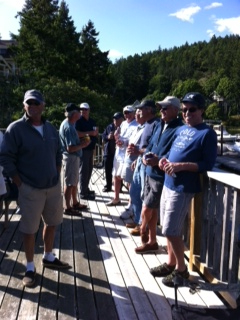 And speaking of socializing, most evenings at dock, members congregated on the       back of one another's boats to share some laughs and crazy stories. One such group of revelers in Otter Bay were apparently royally chastised by an irate, half-naked Yankee who needed his beauty sleep for an early morning rise.  After all, it was 9:30! I heard that they wished the killjoy a hearty "good-night" as they reluctantly dispersed for their own beds.
I know I mentioned that the boats are decked out to the TENS for the Yacht Club cruise, but did I mention that the sailors and crew also come aboard in their nautical wear? Let's just say, some do… One sailor (in particular) was constantly checked out each morning by the female YC membership to see what trendy new tee-shirt he'd be sporting.  Nice for the women to have a GQ sailor along on the cruise for eye candy, as opposed to the unwashed, unshaven, unchanged lot with whom most of us were stuck with throughout the cruise…. (Yikes, did I write that?)
And did I tell you about the shoe fashionista who wore a different pair of sandals with each new outfit? Everyone oohed and ahhed over each morning's unveiling of the new flip flop of the day. Obviously the rest of the YC females need to STEP IT UP for the next cruise… Watch out captains, the girls are going shopping!
One sailor developed a mantra whine that could be heard throughout the marinas whenever he hit his head descending below deck. Apparently, the serious divots that he took out of his somewhat ample forehead were accompanied with, "I NEED A BIGGER BOAT!" (Gee, I wonder which sailor that could have been…) His wife told him to chill. If he waits ten years, she guarantees that the boat will be the perfect fit for him. Cheeky, isn't she?
And just how intimate does one get with other participants of the Spring Cruise?  Ask the couple stuck in the middle while rafting in Cowichan Bay. They'll never admit they heard the 3:00 a.m. head flushes, will they? The ball cap curtains on the cabin windows might suggest that a certain degree of privacy was sought.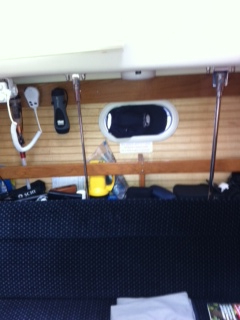 No one will forget the "bakery frenzies"! Why is it that bread becomes the ultimate focus when out on the water?  Well, maybe it wasn't the breads, but more the scones, cinnamon buns, pies and apple strudels… Do you think a few pounds were put on waistlines during the cruise?
Everyone loves their pets and many sailors bring them along on cruises.  This works fairly well at pet friendly docks, but gets trickier if one is on a mooring buoy in the middle of a bay.  One member took his deaf and aged dog for an early morning walk and lost the poor, defenseless little guy! Calling him certainly wasn't any help! His owner has since heard of an effective "walk your dog device" – called a leash.  No more fear and anxiety attacks for this dog owner!
Have you noticed the sailors that finally get their sails up and immediately start to hail their avid sailor friends nearby to take pictures? They want a record of this event!  (I'm surprised they're not requesting videos to be uploaded to uTube!)  They  have a need for evidence that they: a) actually know how to raise their sails and b) that they actually do so, at times. Naturally, they're the ones that hang photos and nautical paraphernalia throughout their homes as further proof that they actually do sail … occasionally. (But that's our little secret, isn't it?)
It appears that when boaters travel in groups, they become more adventurous and confident; trying new passages, passes and short cuts. There is a bonding element out on the water that makes one feel a sense of security while boating together on the ocean. This became evident when one of our boats ended up momentarily on the rocks of a reef, and ultimately lost it's steering. The speed with which members rallied to the aid of this boat in distress, demonstrated the tie of friendship and caring. Towing the boat and crew to safety became the priority.
Will another Yacht Club cruise be planned for next year?  This crew member certainly hopes so and will be the first to sign up. Whatever happens on Yacht Club Cruises, really doesn't have to stay on Yacht Club Cruises, does it?