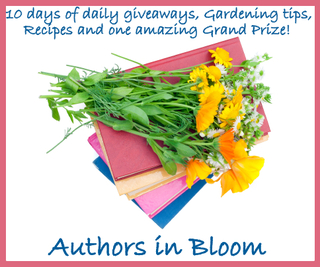 Welcome to my Author Blog Site!  I am so pleased to have you participating in the contest and visiting all 79 of our sites between April 7th at 6:00 am EST through to April 16th at midnight EST. You have 10 days to visit each and every site and leave a comment and email address to qualify for the GRAND PRIZE  (a Kindle Fire and a $25. eBook gift card) or a SECOND PRIZE (a $25. eBook gift card).
HOW the AUTHORS in BLOOM BLOG HOP WORKS:
You have 10 days to visit each of the author blog sites that are listed and linked at the end of each contest blog sites, for your convenience. When you visit each site, you'll be able to pick up gardening tips (from the talented green thumbs) and/or recipes (from the foodies).  As well, if you leave a comment and an email contact at each site, you have opportunities to win give-aways and you'll be entered in the Grand Prize Draw for a Kindle Fire or Nook (winner's choice) and a $25. gift card for eBooks.  Please don't forget to leave a contact email in your comments so that the Rafflecopter can choose the Grand Prize winner and  individual authors/bloggers can contact give-away winners.  We will want to mail your prize/s out to you ASAP. Remember:  In order to qualify for the Grand Prize and Second Draw prizes, you must visit all 79 sites.
(Of course, after perusing my humorous blogs that serve as samples and tips for writing entertaining blogs, you may even wish to subscribe to my blog: http://twocandobooks.wordpress.com. I'd love that!)
Win a FRENCH BULLDOG IPAD COVER ($20. value) as my site give-away prize. Any participant in Canada or the US is eligible for the draw at the end of the blog hop.  You may be asking why an IPAD cover?  Well, the picture of the Frenchie on the cover reminds me so much of one of the puppy characters in my Frenchie TWEEN series.  Everyone needs a cover for their eReaders and whenever the winner uses this cover, they will think of Pierre from my 3 novels: Frenchie's Best Friend- Follow the Blog, Frenchie X2- Follow the Blog and the latest published – Frenchie Diva- Follow the Blog.  Hopefully, your tween/s (daughter, son, grandchild) will enjoy these madcap novels about humorous pet ownership, teen-age angst, and pursuing the possibilities. They are available on Amazon.com and Amazon.ca. Check out my website for more information about my books and author visits/ blog writing workshops: http://www.twocandobooks.com  
You KNOW you want this iPad cover… make sure you leave a comment with your contact email (and maybe even subscribe to my blog-YES!)  And never hesitate to forward my site to any Middle Grade reader, parent, or grandparent, or simply anyone who is "gaga" over their pets for some fun, humorous reads!
I don't have a gardening tip, but I do have a quote from an exceptional novel that I believe has inspired me to want to garden.  Read BLACKBERRY WINE- A NOVEL by Joanne Harris (author of Chocolat).
"The kiss of the sun for pardon,
The song of the birds for mirth,
One is nearer God's heart in a garden
Than anywhere else on earth."  (P. 313)
Since I don't pretend to think of myself as a knowledgeable gardener, I am providing you with 2 recipes, instead. Don't forget to copy these recipes:
The Tabbouleh comes from COOKING SCHOOL MEDITERRANEAN.  We are fond of quinoa and the veggies and herbs in this make a refreshing  salad. It serves 4.
generous 1 cup quinoa , juice of 1/2 lemon
2 1/2 cups water , 2 tbsp extra virgin olive oil
10 vine ripened cherry tomatoes, halved , 4 tbsp chopped fresh mint
3 in. piece of cucumber , 4 tbsp chopped fresh cilantro
3 scallions, finely chopped , 4 tbsp chopped fresh parsley
salt and pepper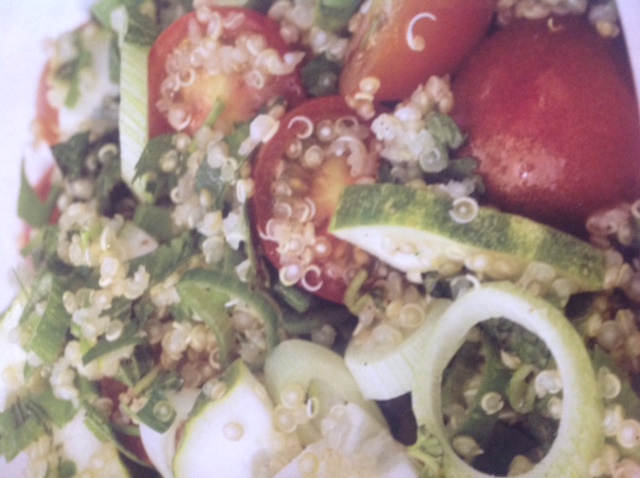 The Key Lime Pie recipe is from Weightwatcher's 50th anniversary cookbook. I often travel in the US and love sampling the Key Lime Pies of the Southern States. Last year's piece was superb in Charleston and 2 months ago, the tart taste in Key West was a welcome joy on a blistering hot day!
Crust: Combine 1 1/4 cups graham cracker crumbs with 1/4 cup melted butter. Press on bottom of 9 in. springform pan.
1/2 cup fresh lime juice (smaller key limes from Florida Keys are preferable)
2 tsp unflavored gelatin
1 (14- ounce) can sweetened condensed mill (I use the light.)
2 tsp grated lime zest
1 1/2 cups whipping cream
1 small lime, thinly sliced.
(I like my pie super tart and limey, so I add about 1/4 cup of lime curd to the mixture.)
1. Pour the juice into a small bowl and sprinkle with the gelatin. Let stand until the gelatin is softened, 5 minutes. Transfer to a small saucepan and heat over low heat, stirring, until the gelatin dissolves.
2. Stir in the condensed milk and cook, stirring occasionally, 5 minutes longer (do not boil). Remove from the heat and let cool 10 minutes. Transfer to a large bowl and refrigerate 30 minutes, or until the mixture starts to set.
3. Whisk the thickened filling until creamy and smooth ; stir in the lime zest (and LIME CURD, if you want it). Using a a rubber spatula, gently fold in the whipped topping until combined. Pour into the pie crust and refrigerate until firm, at least 3 hours or overnight. Garnish with the lime slices just before serving.
HAPPY BLOG HOPPING EVERYONE!
Visit each author on the list for the Authors in Bloom Hop! And don't forget to leave a comment and your email contact on each site to qualify for the Grand Prize Raffle and individual author give-aways! Thanks for the visit!