NO SAIL PAST THIS YEAR?
NO PROBLEM…
  

WELCOME

To The

SCYC DRIVE PAST 2020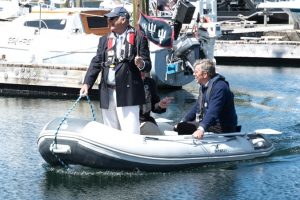 You will recall last year's Sail Past when husband was the Commodore of their local yacht club. (Refer to May 20, 2019 in the archives on the Blog Roll) TENDER TUESDAYS- PRAIRIE GIRL SERIES #28 (SCHOONER COVE YACHT CLUB'S NON-TRADITIONAL SAIL PAST 2019) Last year(due to gale force winds) the members manned their boats tied up to the dock and toasted the COMMODORE (husband), as he was ferried past their sterns in a dinghy, waving his SCYC burgee. This year, the club could not even assemble on the docks for their Sail Past Ceremony, as gatherings that size are prohibited and of course, there was no way to physically- distance themselves.
One thing is clear about SCYC, their members are creative and full of spirit. What did they do to salute their COMMODORE and COMMANDER? They organized a DRIVE PAST (or WALK PAST)! Yes, the COMMODORE and COMMANDER stood on either side of the driveway and acknowledged the salutes (well, maybe flag waves or honks), as the members passed by. It was a blast to watch the membership parade respectfully by their distinguished COMMODORE and COMMANDER. (After all, Sail Past is a revered tradition in one's Yacht Club!)                              
The closer the date for the DRIVE PAST came, the more convinced Prairie Girl was that the Sail Past couldn't just end with a DRIVE PAST. She and husband scoured the internet for any restrictions regarding social distancing in the outdoors.  All they found was the no more than 50 and keeping 2 meters apart rules.  Prairie Girl had a plan. No one in Fairwinds has a larger, flatter driveway than them.  The only thing preventing a small gathering on the driveway for 5 or 6 couples, would be the weather. She kept herself tuned into the weather app and when the forecast wasn't too ugly for the DRIVE PAST (Okay, maybe it said possible showers…), she emailed the following invitation to  6 couples:.
The BAD NEWS is that SCYC can't have their traditional 

SAIL PAST

and dinner this year.
The GOOD NEWS is that we are creative and have a

DRIVE PAST

organized on Sunday (rain or shine)
The BAD NEWS is that all members cannot gather altogether to socialize over drinks and dinner at the Fairwinds Golf Course.
The

GOOD NEWS

is that small groups could still get together.
The BAD NEWS is that NOT everyone has a driveway or outdoor space large enough to accommodate a small grouping of a dozen.
The GOOD NEWS is that Prairie Girl and husband have a large, flat driveway and enough chairs to accommodate 12 people. (If you have any folding deck chairs, bring them along!)
The BAD NEWS is that the weather forecast may not cooperate for an outdoor get-together.
The GOOD NEWS is that the

Prairie Girl

and husband are willing to LYSOL their chairs and set them up 2 meters apart, in case we get lucky and the Sun Gods shine down on us.
The BAD NEWS is that if you can come, Prairie Girl and husband cannot serve you appies, snacks or drinks.
The GOOD NEWS is that you can bring your own refreshments and snacks (including glasses).
–AND THE BEST NEWS is that we can actually socialize and have a chance to see each other. We all need the laughs.
Please RSVP. If you have made other arrangements or have a better offer, we understand. Let's keep our fingers crossed for a sunny day. (She also wanted to make sure that those invited had an OUT if they felt uncomfortable with her plan.)
(If you could do your WALK or DRIVE PAST between 1:00- 1:30, and then proceed to our driveway, that would probably work best.)
–Prairie Girl and husband 
DRIVE PAST morning arrived and the sun peaked out tentatively.  Prairie Girl happily prepared for the event, just as she had during her educational career. It was such fun getting their little event organized.  (Only one couple decided not to come, so that was encouraging that the whole thing wasn't a 'totally daft idea in the middle of a pandemic'.)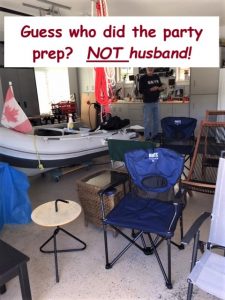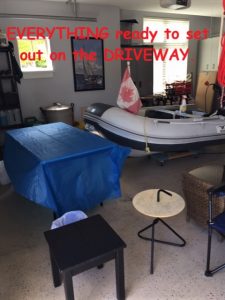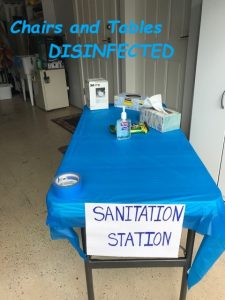 Note the sunshine for the DRIVE PAST at 1:00. Prairie Girl was delighted that the PHYSICAL- DISTANCING DRIVE PAST PARTY would go ahead, as planned.
By the time they arrived home, a cold North wind had picked up and dark, heavy rain clouds were building.  What now, you ask? You're nodding your head, like you KNOW no one actually showed up to sit outside in the elements, right?  WRONG!  Everyone came bundled up and laden with their own libations to keep themselves warm- of course they did!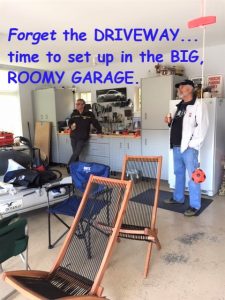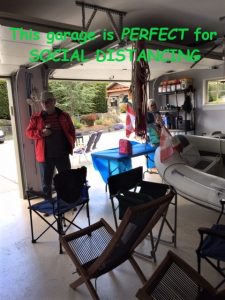 Within minutes, the chairs were dragged in, as the dinghy was dragged out.  Chairs were set up around the perimeter of the garage with tables for each couple to set their drinks on. Popcorn cups and individual chip bowls were set up in the middle for their guests to help themselves.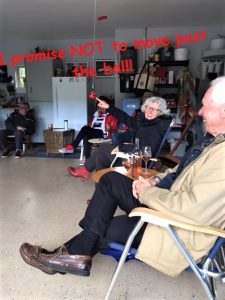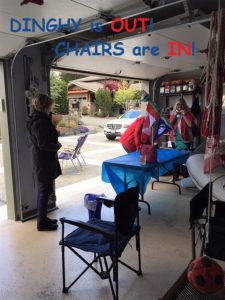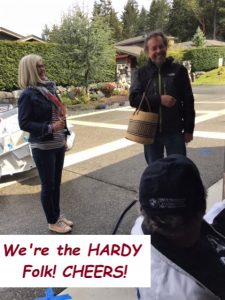 The Sun Gods let us down that afternoon. It poured and blew and Prairie Girls's guests shivered.  But two couples persevered throughout the entire afternoon and settled in for several hours of stories and laughs. It felt so great to be amongst one's friends again.  Physical – distancing could work with a group get-together, after all. Or could it?  (Secretly, Prairie Girl and husband sighed with RELIEF as the 14 day mark passed yesterday…). Maybe that's why Prairie Girl took her time to write about their social get-together during the pandemic…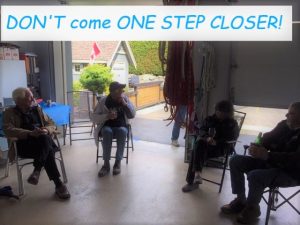 Thanks for visiting FUN HAPPENS and reading yet another Prairie Girl adventure – this time off the water!  Prairie Girl wasn't sure she should be sharing this story, as she certainly wouldn't want to influence others in case they weren't so vigilant with wiping everything down with Lysol and such.  Be safe, be kind, stay healthy, and try to treasure some of the precious moments that one has experienced during Covid 19. Try to make one special little thing happen each day that makes you smile and be grateful for your family and your friends. And please do leave a COMMENT and pass this on to anyone you know that might enjoy reading it. Prairie Girl would love to see more readers subscribing  to her blog.