FIRST SAIL OF THE SEASON AND IT'S THE MIDDLE OF JULY!
                                                                                              -UNHEARD OF!
How could it possibly be the middle of July and the TwoCan XL had just left the dock? Let's face it, 2020 has been a most unusual year! It's like nothing any of us have ever experienced. You will recall Prairie Girl and husband had a shortened sailing season last summer when she tripped descending the stairs on the last night of their first sailing vacation aboard their new (older) boat- the TwoCan XL.  This meant they had 2.5 weeks on the water last June and then couldn't get back on the boat until 6 weeks later, as the 3 broken ribs took their time to mend. They thought that was catastrophic. Ha! It doesn't compare to the pandemic and the crazy weather patterns of June and now July.  It is cold with strong wind warnings, daily rain and overcast skies… How can it go on day after day?
So what does this mean for Prairie Girl and husband? Well, Prairie Girl is normally a serious 1.5 hour a day walker up and down steep hills with her walking buddies.  Things got complicated at the end of March, as she insignificantly twisted her ankle slightly on a self- distancing hike. The next day, her knee started to scream at her during her walks. Now it's mid-July and she hasn't had a descent walk for the last couple of months due to a meniscus tear and bursitis…. Meaning she isn't in great shape, once again, for sailing. The pandemic is exasperating the issue due to her physio therapist closed for 2 months and booked up once she re-opened.  As well, her Dr. maintains phone call appointments and so it has taken 3 months to have a face to face with him in the third week of July.
What, you ask, has husband been doing throughout all of this turmoil? You remember from past posts that he has a propensity for project work.  He likes to maintain anything he owns in its original perfect shape.  Prairie Girl loves this trait of husband's, but let's just say, it has been a full-time job to transform the 2006 TwoCan XL into a 2020 version.  He became so obsessed, he even started to talk about re-doing the upholstery in the salon. Now, that means he was starting to trespass on her decorating territory. (Even Prairie Girl couldn't justify changing out the cushions that were already in perfect condition- albeit maybe NOT her choice of fabric, but still…) This is no lie…husband woke up each morning, packed his lunch, and made his way to the boat- often running to chandler and marine stores for pick-ups on the way.  And did she mention the daily delivery made by Amazon and other online sources.  Yes, he put in a full day at the boat – almost each and every day.  The only time he'd arrive home early would be if he was installing something below decks and the marina was in motion.  This was the first time Prairie Girl ever saw husband seasick… and he hadn't even left the dock!
What were some of husband's projects, you're wondering? Well to just list a few, check this out:
Installed the new AIS system (purchased at the Miami Boat Show). Unfortunately, the WIFI couldn't connect to the Navionics Mapping App and therefore, a new chart plotter had to be purchased and installed on a NMEA 2000 system. (I know, I know, you're shaking your head thinking

Prairie Girl

is a true wonder, being able to regurgitate all of this technical jargon!)
a new fresh water pump installed
a new joker valve installed into the head (and a 2nd one put into our emergency kit… you KNOW what that's all about…)
brand new, pretty white fenders
re-labelled his improved, cleaned up electrical panel
installed new LED lights in the salon and berth
installed 2×100 watt solar panels with a Blue Tooth MPPT charge controller. (By now you are thinking husband is an electrical engineer genius…good thing UTube has such great HOW TO VIDEOS!)
built a new wooden cockpit table. It was left at home on this trip, as he dropped it off to have the hinges installed. Unfortunately (or fortunately)

Prairie Girl

asked an obvious question. 

"Did you make a cut out for the transmission and throttle control when it is engaged?" 

OOPS! 

An emergency call was made to the wood craftsman telling him to NOT put the hinges on, after all.

Phew! 

(Thanks Prairie Girl for helping husband dodge that bullet!-tee hee)
So, here they sat at John Henry's in Pender Harbour for the first 4 days of their trip up to Gorge Harbour and Rebecca Spit.  The wind was blowing 20+ knots on the nose in the Melaspina Strait.  Tomorrow it will pour throughout the entire day, so they will stay put a fifth night. Unbelievable!  The upside is that Prairie Girl finally had some knee rest and writing time, and she had an opportunity to sell some copies of WHO'S the CAPTAIN? to the John Henry's Marina Store and Gift Shop.  Make sure you look for them when you go into their shop this summer and talk them up with Allison (the owner).  I know you will!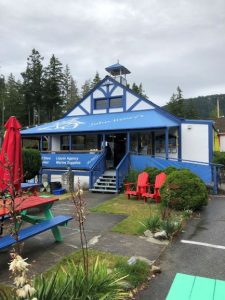 Prairie Girl and husband realize you have boating stories of your own during the pandemic months.  Please take a minute to write an anecdote of your experiences by leaving your message in the COMMENT section.  And please, please pass this link:  www.marylaudien.com to anyone who you think would enjoy Prairie Girl's posts. It's gratifying when she knows there are new readers to her blog.