PACIFIC YACHTING MAGAZINE'S

TRIBUTE  to their "COCKPIT CONFESSIONS"

CARTOONIST –
                       DAVE ALAVOINE
Returning from an extended sailing trip in August, husband and Prairie Girl opened up their August magazine to discover the five page feature: A TRIBUTE TO LONG – TIME PY ILLUSTRATOR DAVE ALAVOINE! And when you looked in the corner of the front cover, you saw that cheeky little seagull of his, saying, "ABOUT TIME!"
Dave Alavoine has entertained us with his clever cartoons found on Cockpit Confessions since 2005. He is a treasure to all his followers, and Cockpit Confessions will not have the same appeal without Dave's wit pulling together the humour of the submitted story with his cheeky nautical cartoons.
As you will recall, Dave and I collaborated and launched our book project, WHO'S the CAPTAIN?  in Nov., 2016. Pacific Yachting Magazine reviewed the book, as well as Good Old Boat and 48° North. The Book Launch was at Martin Marine on the North Shore. This location was chosen, as Dave Goodman (owner of Martin Marine) had commissioned Dave to produce a humorous, effective ad when moving locations on the North Shore) and this ad received such positive feedback that they have continued to run it in Pacific Yachting Magazine to this day. Our book launch was billed as a tribute to this creative, comical nautical cartoonist living on the North Shore. (Please read two Blog posts: Nov. 20th and Nov. 23rd) found in the blog roll archives for more info about this event that PYM sponsored. (Go to www.marylaudien.com)
The back cover has a quote by husband, "Where else can one take home a collection of Dave Alavoine's nautical cartoons in the context of family vacation sailing?  A keepsake for sure!" – Ryan Laudien  (Husband of Prairie Girl and BIG FAN of Dave's Cockpit Confessions Cartoons in Pacific Yachting Magazine)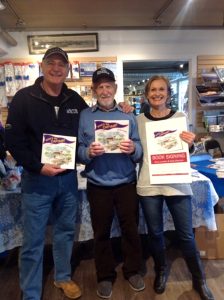 When I first contacted Dave Alavoine to arrange a meeting to discuss the collaboration on a book project, I expressed to him how his Cockpit Confessions cartoons inspired the book and the humorous Prairie Girl Learns to Sail blog posts on my website, www.marylaudien.com.  As I created the vignettes for the book and the cheeky glossary, I always envisioned Dave's cartoons. Creating and bringing this project to life was a magical and fun experience, that I will never forget.  Dave and I connected on a creative and friendship basis to make the best possible book for captains and families to enjoy on boating vacations. Thank you, Dave for that memorable experience. 
From the back cover of the book:
David Eggert (Director of Development and Relief Captain, SALTS Sail and Life Training Society- "Training Young People, By the Sea, for Life.") wrote:
"I loved the book! Great humour and fantastic illustrations. Most certainly to be enjoyed by cruising families."
Karen Herage (Schooner Cove Yacht Club Past Commodore)
"Anyone who has sailed with family, (and even if they haven't), will love the book for what it teaches us all -working, laughing, exploring, and planning in pencil with a BIG eraser."
Excerpts from Book Reviewers for Sailing Magazines:
An excerpt from Carolyn Corbett of GOOD OLD BOAT, reviewing WHO'S the CAPTAIN?
"The humour in the text is accentuated by clever, colourful cartoons."
An excerpt from Cherie Thiessen of PACIFIC YACHTING MAGAZINE, reviewing WHO'S the CAPTAIN?
"PACIFIC YACHTING READERS won't be wrong if they feel there's something familiar about this book. There is. The cartoonist, Dave Alavoine is no stranger to PACIFIC YACHTING. His cartoons have made us laugh many a time when reading the magazine's popular Cockpit Confessions.
Both storyteller and illustrator must have been synced closely during this collaboration, as Alavoine's cartoons seem to mirror so closely the mood of each of Laudien's vignettes. In her introduction the author expresses the same sentiment: "Each time he'd draft a sketch and email it for collaboration and feedback, it was like opening a birthday gift: his cartoon interpretations are the perfect match to the text."
An excerpt from 48° North Sailing Magazine's review:
"Get ready for laughs when encountering what actually happens on boating vacations through Dave Alavoine's perceptive cartoons."
And Dave, you should know that husband and Prairie Girl have some of the paintings from our book and Cockpit Confessions displayed in their beach room and they always bring a smile to their faces.