FREEDOM 69 RETIREMENT PARTY

Wife may have had a devious reason for planning a party with a retirement theme for husband, other than the fun opportunity to have friends over for a night of merry-making… (Hard to imagine, I know!) Have you figured out what it might possibly be? Yep, she secretly figured that if the retirement was made official with an EVENT, there really wouldn't be wiggle room for husband to be enticed to get involved in new ventures being proposed. There had been so many false starts leading to his retirement decision that WIFE wanted it sealed in public. After all, Ryan had hit his FREEDOM 69 year!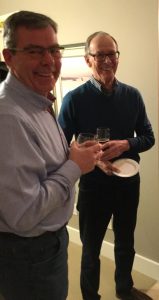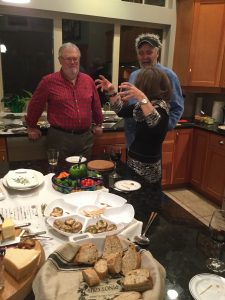 She sent out a request, in advance, to their friends to arrive with "Retirement Advice" for the new retiree. She warned them that some of these could possibly be shared on her SURVIVING MY HUSBAND'S RETIREMENT series. These friends took the celebration planned to a whole new level. They put time and effort into their stories based on their personal experiences of transitioning to retirement life together. There were plenty of laughs and creativity in their presentations. One couple did their own perspectives of what they learned – separately… that was illuminating! Check out the cartoon below… (This wife didn't want to mention that this may possibly already be happening…)
Several of our friends who offered advice were from the Yacht Club and they kept making references to a NEW boat. Wife became somewhat suspicious when this recurring theme kept coming up…
"Keep your life partner (that would be me…) busy as hell which should enable you more time to work on lobbying for important things like a bigger boat! (for your mutual benefit, of course)!"
"I think Ryan should have a boat that he can stand up in, that seems like a reasonable retirement request!"
One couple described maintaining their own interests by wife continuing with bridge, MahJongg, book clubs while she banished her husband to their VERY COMFORTABLE 42 FOOT SAILBOAT for naps, work, or simply to hang out at the dock swapping lies with the guys… (Again, reference being drawn to a larger, more comfortable boat…)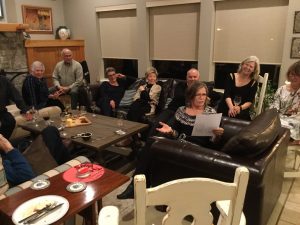 Some memorable quotes were captured for our FREEDOM 69 GUY during the evening:
"Retirement is when you stop living at work and begin working at living."
MD'S Comment (a wife): "If in retirement there is NO LUNCH, why am I having to pack One-To- Go for the Marina Worker?!"
DD'S Comment (a husband): "Most importantly, retirement is for your lifetime- not for a year. SO… YES DEAR really means MAÑANA."
"Had I known retirement was this enjoyable, I would not have worked in the first place and started my retirement much earlier!"
"Let the day unfold."
"And if anyone can do retirement well…
TwoCan

(our sailboat's name) do it!"  
(And last of all, one of their guests thought wife should post a NEWS RELEASE regarding the merits of the retiree drinking his own Kombucha:)
A recently retired man in Nanoose Bay finds cure for baldness… Just look at the new growth (albeit grey) that he's sporting at his FREEDOM 69 PARTY! The 69 year old swears he was almost completely bald on top, until he started his daily intake of Kombucha tea…the miracle drink!
The new FREEDOM 69 RETIREE loved his celebration. Having good friends, entertaining stories, great Italian fare and wine… what more could one ask for?  The REAL question is whether wife's husband will actually heed the great advice for helping them to SURVIVE RETIREMENT TOGETHER!! What are your thoughts?  Leave a message below… please!